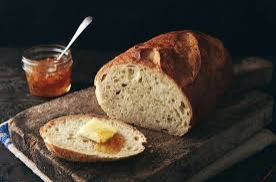 A FRESH SLICE OF DAILY BREAD

Yes, there was life before cell phones. Ancient stone sundials were designed to slowly tell time throughout the day while we leisurely communicated with people face to face. They were often inscribed with the words Carpe diem to remind man of the brevity of life and the elusiveness of time. Cell phones, on the other hand, instantly consume too much of our time without visual contact.
Carpe meant "pick or pluck" or "enjoy, seize, use, make use of." Diem means "day." A more literal translation would be "enjoy the day" or "pluck the day while it is ripe." The term is a maxim usually translated "seize the day," originally taken from a poem written in the Odes in 23 B.C. by the Latin poet Horace.

It's often misused in popular culture to justify reckless behavior: "make merry—you only live once." "If not now, then when?" In other words, "Do and say what you want to now because you may not have another chance." Or "make much of the time you have. Poetically, "Gather ye rosebuds while ye may:" enjoy life before it is too late.
What does this mean to us in a society that forces us to be sequestered away and distanced from all but our immediate family or, for many of us, in solitary confinement, as it were? Every day drags along in the same-old-same-old routine. We're trying to survive as best we can for an undetermined duration of time. Some of us are unable to get out and earn our daily bread. We feel as if we are wasting our time, treading water, getting nowhere. How can we carpe diem/seize the days which come to us with such humdrum monotony?
Does Jesus have anything to say about Carpe diem and living in the present? He puts our days in perspective. He gives us detailed, practical instructions in Matthew 6:25-34. We are not to be anxious either about daily necessities or even our very lives, since our heavenly Father knows what we need and He will care for us just as He provides for His natural created world.
That doesn't mean that we should squander our days by "gathering rosebuds" or passively spending our time "smelling the roses." Neither is it a license to indulge ourselves and "eat, drink, and be merry," since life is short and today is all we have. In light of the pandemic, we can't even count on surviving our cloistered life.
How is it possible to actively "seek first God's Kingdom and His righteousness" in our housebound circumstances? Is there a way to seize the day for God's Kingdom business and reach out beyond our confinement to help others?
We are not in a prison with locked doors. We are where we are under God's direction, if we belong to Him. He can show us how to bloom where He has planted us by reaching out to others. Many have found creative ways to live Carpe Diem in the present moment with joy by looking out of their "window of opportunity" through the eyes of God.