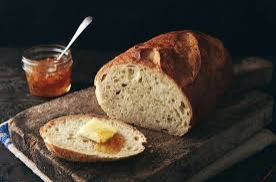 A Fresh Slice of Daily Bread
Smell is one of our five senses to which we are most sensitive in others. Prolonged close proximity to one another in a confined space carries its own signals. A smoker or an alcoholic doesn't need to announce his habit. It is evident. Body odor is distinctive. The smell of onions or garlic might signal a meal in progress. Perfume is an alert that there is feminine presence—at least it used to. A sweaty sports team running for the locker room...well...!
Emotions also have their identifiable scent, if not literal, than perceived. After a six-months-plus sheltered-in-place experience, is our scent one of complaint, anger, despair, impatience, irritation, desperation, hopelessness, dejection—or peace, acceptance, patience or other fruits of the Spirit? Each emotion has its distinctive aroma.
From time to time on special occasions I've received a dozen long-stemmed red roses. Exquisitely beautiful, their fragrance filled my home day and night while they were fresh. I wanted to preserve the petals by drying, fully expecting them to remain fragrant. I was disappointed when they totally lost their fragrance.
A friend reminded me that only fresh, living rose petals have a scent—not dead, dry ones. She suggested I apply a few drops of concentrated rose oil to them, zip them snugly in a plastic bag and let the petals absorb the fragrance as if it were their own. Voila! Fragrant again! And I was able to separate them into smaller baggies to bless friends with while sharing a spiritual analogy:

Christ Himself is The Supreme Fragrance. "Follow the way of love, even as Christ loved you. He gave Himself for us as an offering to God, a gift of pleasing fragrance" (Ephesians 5:1). Christ's sacrifice was foreshadowed by the sacrifices in the Old Testament which were called "a sweet-smelling [fragrant] oblation [sacrifice]" (Exodus 29:18, 25).
We should bear the fragrance of Christ wherever we are, at all times, under all circumstances—times of uncertainty, adversity, and dark times of life (including COVID-19). We are to attract people to God and to His glory, not to ourselves. Primarily, we ourselves are to be a fragrance unto God, to lavish our love on Jesus like the expensive perfume Mary poured on Jesus' feet as an expression of her love and gratitude for her sins forgiven.
Since only living roses share their fragrance, so only living Christ-ones can offer a fragrance to God and share it with others around them. Like the dried rose petals anointed with rose oil, we need to be "anointed with fresh oil" of the Holy Spirit (Psalm 92:10) so we can absorb His fragrance. We must nestle close (zipped up) to Jesus moment by moment, abiding in Him, spending time in His presence adoring Him, not only in our selective quiet times but "without ceasing" throughout the day and night.

On the flip side, other people will quickly recognize whether we give off a Jesus-fragrance from being zipped up close to Jesus or whether we smell stale from following afar off. Without our saying a word, others can know if we have been abiding in Christ. Our lives will draw others to Him. As Saint Francis of Assisi taught and demonstrated by the fragrance of the way he lived, "Preach the gospel at all times and, if necessary, use words."
"Thanks be to God, who unfailingly leads us on in Christ's triumphal train, and employs us to diffuse [spread, make evident] the fragrance [aroma] of his knowledge everywhere! We are a sweet fragrance of Christ for God's sake, both [discernible alike] among those who are being saved and those on the way to destruction [perishing]; to the latter an odor dealing death, [a fatal odor, the smell of doom] to the former a breath bringing life [from life to life, a vital fragrance, living and fresh]. For such a mission [ministry] as this, is anyone really qualified [fit, sufficient, able]?" (2 Corinthians 2:14-16 Combined translations/versions)
Dear Lord, so may it be through my life. Help me to diffuse Jesus' fragrance however long I must remain sheltered-in-place. Then I won't need deodorizer or artificial air freshener to overcome the offensive spiritual odors that have developed in my life in confinement.