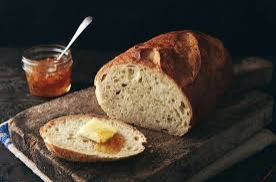 A Fresh Slice of Daily Bread
We live on the crusty, cruddy surface of this blue planet called Earth along with billions of human beings on every continent. So many are restless, angry, discontented with their lot in life, living either below poverty level, or power-hungry for personal gain, protesting, rioting and plundering recklessly what belongs to others.
We see politicians vying for ways to gain power "to re-set society" in frightening ways and turn our present way of life upside down. Our world suddenly feels like it's careening out of control while we are off the streets "sheltered-in-place" watching helplessly. We fear for the safety of our families. We don't understand what is going on, what it all means, if anything—how things will be when we emerge from our refuge.
We are finite and can't see the big picture since we are too close to it, immersed in it. We can't step outside of the everyday frame of our existence so we view everything subjectively. We don't have the objective, eternal view of God which condenses time and space to view everything in the Eternal Now. We think our trials and adversities are monstrous, unsolvable, that we will never get through them, that they are too heavy to bear.
Nevertheless, we do have an access to view that big picture panorama through what God has revealed to us in the Scriptures. There is a better way to get a perspective than if we could see what a drone sees looking down upon the mess the world is in.
The Message paraphrase version of 2 Corinthians 4:17, 18 puts it pretty much in real perspective, the view from above, where we are seated in the heavenlies in Christ Jesus even now. "These hard times are small potatoes compared to the coming good times, the lavish celebration prepared for us. There's far more here than meets the eye. The things we see now are here today, gone tomorrow. But the things we can't see now will last forever."

We may be more familiar with the classic wording, "For momentary, light affliction is producing for us an eternal weight of glory far beyond all comparison, while we look not at the things which are seen, but at the things which are not seen; for the things which are seen are temporal, but the things which are not seen are eternal."

We can be certain that we are in the midst of "something good" which may seems bad, but God is working on us through what is going on, teaching us to trust Him to bring everything to the conclusion He intentionally planned. Let's leave the driving to Him and stay in the passengers' seats. Ultimately, God will bring us all the way through our afflictions, troubles, adversities and hard knocks by shaping and chiseling and polishing us further into the likeness of His Son Jesus Christ. That is His loving purpose in His dealings with all of His earthling children who are destined to live joyfully with Him in eternity.
To get the eternal perspective, let's "look down" from our present heavenly position in Christ who "raised us up with Him, and seated us with Him in the heavenly places in Christ Jesus" (Ephesians 2:6). In the midst of the negative whirlwind of global, national, and personal stressful adversities and perplexities, things might not look good. But Jesus told us in advance that the Christian life requires taking up our cross and following Him.
It is not a matter of how it looks. We are to fix our eyes on the unseen, the eternal, not the seen, the temporary. It is about trusting God that He is "working all things out for good"with and in and through us—personally and collectively—as part of His precious Body and the Kingdom of God. Mankind may seem to be out of control but our Father Who is in heaven is fully in control. Our hope is in Him alone.
From way up there, or way out there in space, or somewhere in the vast universe wherever God and the "heavenly places" are located, we are spiritually with Christ now. He invites us to actualize and accept His view of what is happening to us and to the world as we walk around on the shallow crust of this small planet.
Take courage. Let's keep trusting the Lord and watch and see and rejoice in how it all turns out for His glory!