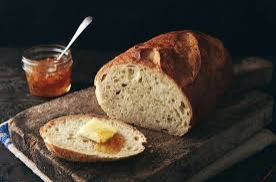 A Slice of Fresh Bread
Readers of my website and books know that I often compare aspects of the life cycle of the eagle to our lives as Jesus' followers—so does Scripture. There are parallels to our Coronovirus experience.
No matter what its age, an eagle doesn't neglect its meticulous daily grooming. By instinct, it spends up to an hour each day perched quietly on a rock in the sunshine preening and cleaning each of its 7,000 feathers through its mouth, breathing on them as if steam cleaning to restore its feathers from yesterday's wear and tear. A gland in the eagle's mouth secretes oil to weatherproof and waterproof the feathers so it can dive into the water for fish. "He who has ears to hear, let him hear."
In spite of a lifetime of daily maintenance, the time does come in the life span of this majestic bird when all its wonderful functions begin to decline. It faces a deteriorating crisis, unable to fly as before. Its eyes become wispy, no longer moist; its talons dull, and calcium deposits on its beak hinder it from hunting. It can hardly squawk. The eagle is losing strength, and its feathers are sparse and unkempt. It is one tired bird! (Does that sound like anyone you know? Someone in your mirror?)
The weary eagle could take the way of least resistance—give up, and settle down on a canyon floor with wings drooping, dragging itself around listlessly. But the valley is not where God plans the eagle to stay. When a vigorous eagle notices the bedraggled, defeated eagle in the canyon, it screams at it and dives down to provoke the weary eagle to leave the unprotected low places where it is alone and "vulnerable" to enemies lurking to take advantage of its weakness. (I want to be your cheerleader!)
God's plan for it is to "mount up with wings as an eagle" to a high place and follow His instinctive process of rejuvenation. The declining eagle is "programmed by God" to shelter-in-place on a high, flat rock in direct sunlight to pluck out every one of its worn feathers until it is nearly naked, undoubtedly a painful but necessary procedure. No pain, no gain.
When the eagle senses that its rejuvenation is complete, it takes off soaring to the heights, crying loudly and triumphantly with its revived voice and renewed capabilities and strength. Once renewed, it is said that compared with a young eagle, you can't tell the difference.
Even as people of faith, with the length of our confinement under restrictions of COVID-19, we too begin to feel the burden of the ordeal. Let's look to the eagle for our example in the re-hab it goes through. This year God has allowed us through the shelter-in-place mandate to come apart awhile from society. Some of us have gone through this re-hab in crowded family conditions. Others are alone with the Lord to deal with the unproductive hindrances which have accumulated like barnacles in our lives. He has given us this time in the "Sonlight" to get rid of the buildup of non-essentials—to "put off" the many things that "so easily beset us" and hold us down from flying high with the Lord.
God's plan is to restore us to live abundantly in Christ so we can complete the race that is set before us and finish His loving purposes through us.
Let's get up off our canyon floor with its pity party. It's useless to wallow in our depression and complain about the length of the road and declining condition of our "earth suits," our mortal bodies. Our canyon floor is where we are vulnerable to the wiles of the evil one who is after the ruin of our souls.
Jesus has abundant restorative powers available to reinvigorate us emotionally, spiritually and physically according to our deepest need. God's Word encourages us to press on the upward way to new heights to the very end of our lives on earth. Who of us doesn't need such rehab, not only day by day but at some milestone in our lives like the present?
"The Lord satisfies your years with good things so that your youth is renewed [rejuvenated] like the eagle" (Psalm 103:5). Our eagle rehab makes way for "the new thing" that God is preparing for us to do and be when we emerge from our shelter again.