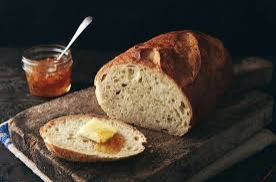 (A slice of OUR DAILY BREAD)
Let's talk seriously. No one but God knows what the rest of 2020 will hold. Will we be returning to some sense of normalcy as we approach fall and winter? Or will we be back to sheltering-in-place but feeling battle-weary? Let's hold on to our trust in God, come what may.
Despite the need to endure job insecurity, the continuing online education of kids, COVID-19 still threatening us, the even swifter downward slide of moral standards and rampant lawlessness, fear for our safety "out there" in society, the almost certain scarcity or rationing of food and supplies for our livelihood as the economy disintegrates, God is still in control.
Suppose our sheltering continues indefinitely. Let's not give in to fear or anxiety whether we are vulnerables alone or in crowded living conditions. It isn't a false alarm, if we prepare for worst case scenarios and they don't come to pass. Like buying insurance or "extra lamp oil" for the bridesmaids, it's sensible preparation in the midst of uncertainty. We may be reluctant to spend money for something that may not be needed. Nevertheless, we will celebrate if natural disasters, snow storms or earthquakes, fire, floods, further epidemics, an electrical grid failure, or any common catastrophes to life on this planet don't happen!
Preparation is a matter for all of us individually and as families to take care of while we can. Big brother government is not going to have our back. If young children are involved, they are totally our responsibility to care for. You've probably already discussed basic prep privately as Dad and Mom, after the too-young-to-understand kids are in bed, so as not to cause them nightmares. But if nearly teens or already teens are in your household, you would do well, at an age-appropriate level, to include them in the discussion. They can be a proud part of any family plan with their cooperation.
Think of these scenarios: How will you gather your family if a catastrophe happens while some family members are elsewhere? In prep to vacate your home in any emergency, has each family member packed their own "Bug Out Bag" with personal needs and essential items in mind? (A favorite stuffed animal is to be considered "essential.") What are your alternate plans for heat, cooling and lighting? How will you connect with the outside world if communication grids are down and cell phones don't work? Have you put aside sufficient money in small denominations to purchase necessities?
How would you manage a family illness or accident when medical help is unavailable? What are your options, if your present source of income is interrupted? Have you made alternate arrangements for your family, if it become necessary to leave your location? How will you secure your house when leaving? What indispensable documents or items should you prepare in advance to bring along? What if your savings and checking accounts are frozen in the bank?
How are you prepared to protect your family in the event of forced entry by marauders? How will you deal with civil disturbances, riots, disorderly assembly, street crimes and terrorism that begin to reach residential areas? This is not needless pessimism. Nothing is beyond possibility these days.
Lots of resources in print, online, by Internet, CD, DVDs can help you prepare for the above scenarios. Making the Best of Basics: Family Preparedness Handbook by James Talmage Stevens is one of the comprehensive best. It deals with absolutely every eventuality. Available from Amazon.com. Buy cheap used copies, if you need to, but consider it a priority investment for your survival.
Another valuable book you should consider is Prepper Instruction Manual by Arthur T. Bradley also available on Amazon.com
Here's one immediate way to insure that your family is not caught without basic sustenance when the nationwide food pipeline suddenly shuts down and it's too late. Start to stock up on some long-shelf-life foods which your family likes to eat. Do this gradually along with your ordinary shopping. It will be a win-win project that pays high dividends. The following link points you in the right direction. Don't forget a mega-supply of mac and cheese!
https://12tomatoes.com/16-survival-foods/?utm_source=glp-news&utm_medium=social-vb
DOUBLE BLESSING: If you have an overflow of food stored, you will have a God-opportunity to share your bounty with others in need.