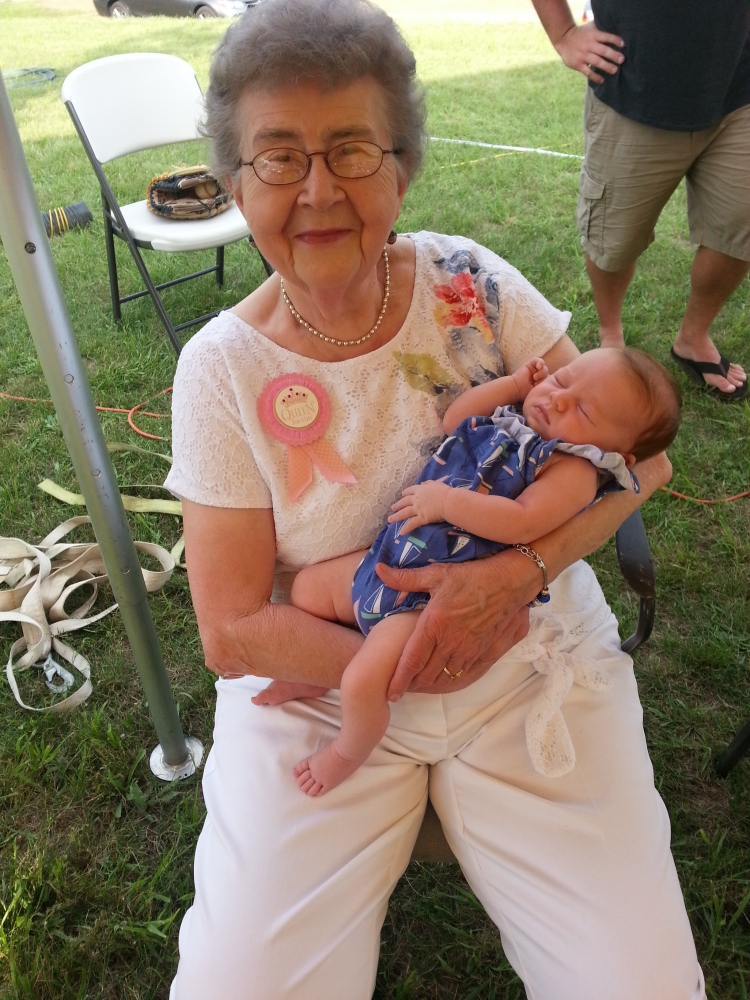 I'm not a literal "tree-hugger," but I would hug my fellow "family tree trunkers," if our COVID-19 situations allowed. I reference my poem Family Tree below. Through its metaphors and similes, I remind myself and many of the subscribers to this website of how blessed we actually are, if God has blessed us generously with longevity.
You and I are trunks of our family trees. It certainly isn't appropriate to moan and whine asking, "Why am I still here?" Think of what those are missing in generational relationships who finished their life race earlier.
In my case, my life has spanned 6 generations. I have friends who have even made it to 7, if they got an earlier start on marriage. I have been blessed to know some of my grandparents, knew my parents' generation well, my own generation best of all, and the generations of my children, my grandchildren and my great-grandchildren has been icing on the cake.
The above picture was taken 5 years ago with infant Myla when I was 90. Five more great-grandchildren have been added making it 14 in the great-grand level so far. "Indeed, may you see your children's children" (Psalm 128:6).
My fellow "trunkers," we have our assignment displayed on God's billboard in Psalm 78: "Listen, O my people, to my instruction; incline you ears to the words of my mouth...We will not conceal them from their children, but tell to the generations to come the praises of the Lord, and His strength and His wondrous works that He has done...that the generation to come might know, even the children yet to be born, that they may arise and tell them to their children, that they should put their confidence in God, and not forget the works of God, but keep His commandments." What is it that we don't understand about God's expectations for us relating to the generations that follows us?
Age and distance and the restriction of "distancing" are not excuses but rather a challenge to creative and innovative ways of reaching our younger progeny who even speak a different "tech language." Don't cut yourself short. Modern technology can be our friend—as aging canines (old dogs) we can still try to learn some new tricks. We can text and email, Facebook, Zoom, Skype, etc. "In old age they shall declare [in wondrous ways!]...that the Lord is upright; He is my rock, and there is no unrighteousness in Him" (Psalm 92:14,15).
Most effective still is the old-fashioned way of prayer. As past generations invested their prayers in us, and they are being answered even now, so "praying forward" for our young lambs by name and situation is efficacious long after we have been called to our heavenly reward. Let's have at it, longevity friends!
FAMILY TREE
I am part of what has been
and what is yet to be.
Sandwiched in between is me:
I am the trunk of the family tree.
I have roots and also branches.
Generations from antiquity
pass through me.
They have determined
what I have become.
They are my history
which has made me what I am.
New branches spring from me;
they are my posterity.
I've had some choice in assisting
and inclining them toward the best
of what they might become.
Yet they are still free to grow and change
within the range of their heredity
and opportunity and God's special plan
arranged from Eternity.
I pray for myself—the trunk between
—that I might be a planting
strong against the inevitable storms
yet bending with the wind if need be
passing on the best from roots unseen
but giving branches room to stretch
and reach upward to new heights
because I faithfully fulfilled
in my Family Tree
with the help of God
my true trunk destiny.
****
(Psalms of My Harvest by Leona Choy, p.40-41)