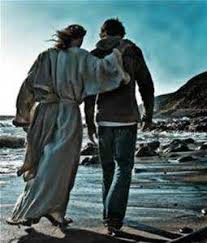 Walking is what human babies want to do after learning how to crawl. In normal situations it is what we do most of our lives. And walking is what we miss and mourn most in advanced years when we are wheelchair-bound or bedridden.
There's walking as self-transportation, walking for exercise, for fresh air, for one's health. Walking for exploration, pilgrimage, jaunts in the countryside, strolls in the city, marches for a cause, celebration processions, walking to raise money for a project, purposeful journeys and rambles with no particular destination. Speed walking, strolling. In the case of Jesus, water-walking
One of my grandsons, Dr. Ed, pastor of a forward-thinking, outreaching church congregation, has initiated PRAYER WALKING once a week at noon in the community where the church is located.
No hoopla. No noise, low key and informal. Anyone can join him for a happy, quiet sidewalk stroll of "two or three gathered in the name of Jesus, where He is in the midst of them." Reading of an appropriate Scripture and a brief prayer kicks off the walk which respects the health-distancing current COVID-19 mandate.
The walkers pray silently in their own way for the possible needs of the people in the homes and businesses and schools and smile at pedestrians they may meet. Children may join in with parents who are welcome to push strollers or hold a leashed pet. Duration of the PRAYER WALK is pre-determined and weather permitting.
Why don't you and I duplicate PRAYER WALKING in our neighborhoods, at the mall, in the park, at the swimming pool, on public transportation, while running errands, during supermarket shopping? An ideal spiritual occupation on various occasions when we have to wait. Wherever people are in evidence or human activity is accustomed to take place—there we can engage in mental prayer. It is just as efficacious as spoken prayer. God is a mind-reader. And He can read hearts.
Jesus warned against public show-off while praying, a negative custom of the religious elite in His culture. They were known for hanging around street corners obviously praying. They already have their reward—the admiration of people. Acceptable PRAYER WALKING is the opposite, more like "closet praying" in that it is done secretly and is heard and rewarded by our Heavenly Father.
"Who is my neighbor?" PRAYER WALKING is a super way to find out. The Holy Spirit runs front through your prayers for the occupants and hopefully you might meet them and have the opportunity to serve them in Jesus' name.