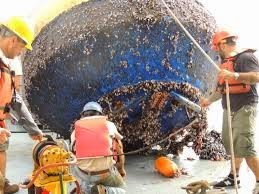 BARNACLES are small marine crustaceans, saltwater animals with an external shell-like covering. They are "attachers." They join themselves permanently to ships, wharves, rocks and other marine animals. Clinging to the hull of a ship they can reduce the vessel's speed. The ship must be put in dry dock to have the barnacles scraped from the bottom.
I'm not unlike some ships at sea which are loaded down with barnacles. I'm weighted down, slowed from pressing on to the best plan God has for my life. I confess to unwanted attachments and feelings. I need to release them, let them go!
I unnecessarily cling to offenses against me—real or imagined. They multiply exponentially. I remember hurts and keep the wounds open by reviewing them in my mind. I cling to negative emotions long after the situation is resolved which caused them. I know I should release these barnacles. I should let them go!
I can't seem to forget events of the past when I was slighted or disappointed, occasions when I was sinned against or taken advantage of. They are barnacles. I should let them go!
Sometimes I'm like a barnacle myself. I cling to some relationship that is over, trying to resurrect a friendship that should be relegated to the past. There may be people I should allow to leave my life, whom God wants out of my life. I may be holding on to a wrong relationship or an addiction. I should be intentional to release it. I should let it go!
I might be harboring some thoughts of evil or revenge, planning to get even with someone for what he or she did to me. I must let it go!
If I'm stuck in the past and God is trying to take me to a new level in Him, I should turn my back on the past, let it go, and let God do His new work in me. If I keep trying to help someone who doesn't accept or want my help, I should back off and let it go! If there is a particular situation that I'm accustomed to be in control of and I sense that God is saying 'take your hands off of it,' then I need to let it go!
If I don't release these things voluntarily, God may need to scrape these barnacles off. The process is sure to be painful. Nevertheless, I must allow it so I will be lightened to "press on to the prize of the high calling in Christ Jesus..." (Philippians 3: 13, 14). The Lord will bless me with a fresh start in a new direction if I allow Him to scrape the barnacles off of my life.
Since I'm in my more mature calendar years, I've accumulated an even greater number of barnacles from which I need to be detached. No matter what my age or how complicated my circumstances, God is sufficient if I'm willing to let them go, release them, detach myself from the "clingers," forget the past and surrender myself totally into His hands.