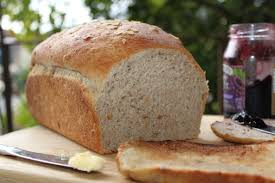 During visits to my relatives in the Czech Republic, someone in the family was designated to leave the house every morning before breakfast to bicycle to the village bakery. They returned with exactly the number of still warm, freshly baked, large, round, fragrant loaves of rye bread which the "Babicka" (grandmother) of the home ordered to provide for her family and any guests or relatives expected that day. No more—no less.
All the bread that came through the door that morning was consumed that same day. Bread was baked without preservatives so the grandmother would not consider serving yesterday's hard and stale bread. It would be fed to the chickens.
Nothing rivaled the fresh bread we consumed at breakfast, still warm, spread with home-churned butter and preserves from their own orchard. It was always accompanied by aromatic, freshly ground and brewed coffee with heavy cream from their own cows.

I got so fond of eating that bread-feast that the morning I left for my flight home, my relatives ordered me a fresh loaf, packaged it up securely, and I carried it as hand luggage on board. All noses were turned in my direction by fellow passengers. Unfortunately, by the time I arrived home the next day, the loaf was hard as a rock!
The custom is the same in the Land of the Bible. Fresh bread is expected daily. We could buy it on the streets during our trip to Israel. In the prayer Jesus taught His disciples, He told them to ask our Father who is in Heaven, "Give us this day our daily bread..." (Matthew 6:11). It is a petition with a double emphasis: "this day" and "daily" bread, to be sure we get the point.
Bread implies whatever may be our current day's needs, not only food but whatever is required to sustain people in any culture. And it pertains to Himself, since Jesus declared, "I am the bread of life that came down from Heaven." A flashback to God's provision for the Israelites in their wandering through the wilderness toward the Promised Land. That bread (or manna), divinely provided, had to be gathered daily—not too much, not extra in case of anxiety about tomorrow. It would spoil by the next day, meant to be used up daily.
I wonder whether the miraculous multiplication of the loaves to the multitude by Jesus might not have been a double miracle. According to the record, the multitude had already been with Jesus attentively listening to His life-giving words for three days (Matthew 15). I'm trying to get my mind around the logistics of that! If the people had initially brought bread with them, they would already have consumed it, since they probably had no intention of being away from their homes so long.
Of course the "bread" they would have brought would not have been the large loaves my Czech relatives relished, but instead small bun-like loaves or small flat breads. Doubtless the fish were more sardine-size.
It was obvious that the people would have been nearly starving and in danger of fainting. The disciples must have taken a survey of what was available and came back to report to Jesus that all that remained among the thousands of people in the crowd were the remnants of one young boy's lunch. Is that a miracle in itself? Why had the boy not finished his? There's a back-story to develop with our imagination. Perhaps his mom had been generous when she slipped extra food into his lunch bag? He might have eaten only half of his lunch? By then, what he offered would also have been hard and stale.
Jesus didn't duplicate the bread and fish—He multiplied them. Would Jesus have changed the boy's bread into more stale bread? Surely not. Wouldn't you suppose that He multiplied it into fresh bread for the people--the best? Like the best wine saved till last? Two miracles simultaneously?
Perhaps three miracles? Fish stink over time, even dried or preserved fish.When the boy offered his lunch, it might not have been very fragrant after three days. Jesus' multiplication could have de-odorized the fish too?
Jesus invited us to pray each day for the current supply of bread. His marvelous grace and provision is ample, abundant, generous and meant to be used immediately.
Tomorrow He wants us to repeat our prayer because there is more in store for us in all the days to come—always daily and not in advance! He wants us to trust Him without having the provision for tomorrow in hand. Do I trust Him in this way?