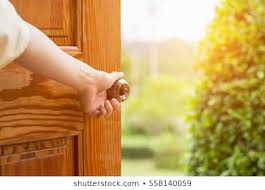 Little by little the door is opening for us who have been in confinement to venture back out into the (real or unreal) world which we left at the onset of COVID. We have been playing serious hide-and-seek for months. HIDING, sequestering, sheltering-in-place and SEEKING to understand what God is trying to teach each of us uniquely. We haven't been tucked away in isolation by happenstance, no matter where the mandate came from. The hand of our loving Heavenly Father has been guiding us.
Who will we be when we get out there again? Hopefully, we will be different for the better after our sheltered time. Neither did the world stand still while we were hidden away. We changed and it changed more rapidly than we thought possible. We may be mistaken to expect some semblance of the normal we counted on before.
WHAT WILL IT BE LIKE OUT THERE AFTER WE EMERGE? Let's not be in denial—it may be worse out there now. We want to be optimistic, but it may be unsafe. Enemy territory. Even "friendly fire." Much more difficult than we expected. Scary. Inconvenient. Values we took for granted have shifted. Foundational principles that gave us security and protection are brought into question. The unknown is ahead.
We may think our previous private world will be waiting to welcome us with open arms. People may turn out instead to be selfish and threatening and unfriendly, unhelpful. We should be ready for opposition such as we may not have experienced before. Similar to the circumstances the apostle Paul described in his time: (2 Corinthians 4:8-10) "We are afflicted in every way, but not crushed; perplexed, but not driven to despair; persecuted, but not forsaken; struck down, but not destroyed; always carrying in the body the death of Jesus, so that the life of Jesus may also be manifested in our bodies."
It may come to that because of increasing pressures on the Christian way of life and limitations imposed on our freedom to practice our faith. Nevertheless, God is in control and has been working on us during our sheltered period to get us ready to do His work through us when we get back outside.
"Out there" might not be the Promised Land we were hoping for. No milk and honey. When confronted with the giant changes, we may be tempted to feel like grasshoppers. Not to be discouraged. God has been working behind the scenes to bring good out of all that will come our way after we leave our hideaway.
He was uncovering what was really in us to bring out the best in us and dealing with the worst so we would be prepared for victory in our new encounters. He was teaching us how to get along without some things and how to creatively work through shortages and inconveniences. He was demonstrating to us the value of relationships, how to express love. How to share our goods with others who are needy. How to praise God in any storm, how to develop patience and endurance. How to deal with fear and the uncertainty of the unknown future by trusting in Him alone.
When prisoners are finally released from their confinement and emerge again into a world they left behind, they are often directed to a "half-way house" where they may safely live until they adjust to their new state of affairs. It is almost another temporary hiding place. They retain their ID as they build a new life and new relationships for themselves. They receive practical instruction on how to cope in a positive way.
As we emerge into society again, our Hiding Place, Almighty God goes with us, before us, is within us—not for temporary shelter-in-place but to "dwell (abide) in the Secret Place of the Most High— permanently, To live "in Christ." Not a half-way rest and restoration stop.
Our ID assures us that we are still children of God, under His care and protection and we will receive ample instruction how to contend with our new situations. We can claim with gratitude all the spiritual perks of Psalm 91 on which we relied when behind closed doors. A WIN-WIN STATUS!