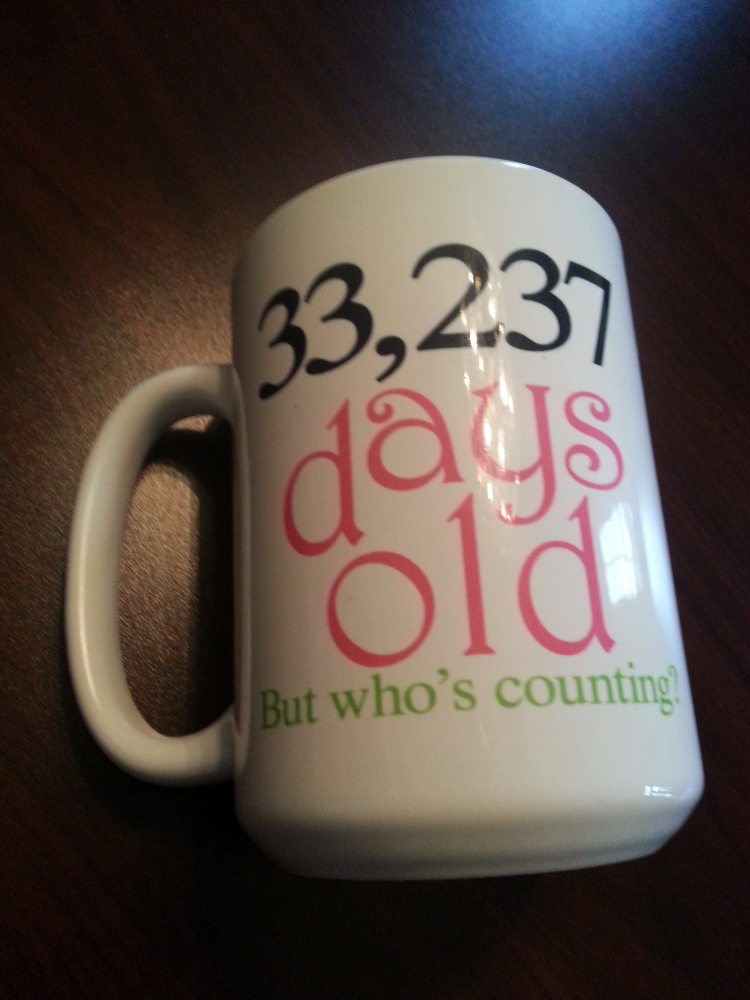 Among the gifts I received on a previous birthday is one I'm still using without regard that it's out-of-date. The creatively personalized mug pictured here is from a special friend. The inscription declares "33,237 days old" calculating my age at 91 when she gave it to me.
It reminds me of the verse, "Teach us to number our days aright, that we may gain a heart of wisdom" (Psalm 90:12). Translations of that verse vary somewhat. The word "number" is sometimes translated "count" our days. The mug inscription then adds the question, "But who's counting?"
I knew there must be some gold to mine if I tried to unpack the answer to that question more carefully and biblically. Who is supposed to do the counting in the context of that verse? "Teach us." Who is the Psalmist (this happens to be a Psalm written by Moses) addressing?
The entire Psalm is a prayer to God. Apparently we have to learn to do this numbering or counting carefully and with knowledge if we want a wise heart. However, we don't seem to have all the facts. We don't know the number of our days, so how can we know if "our number is up"? Their number is known only to God—and He has decided it is better for us not to know.
Jesus did let us know our limitations: by being anxious, we can't add even another day to our life span. It's out of our control. The exact number is already settled. We can't "count on" many days, many years. In fact, we can't count on having any tomorrow. (James 4:13-15)
The result of knowing how to count right is that we will be wise in how we spend our lives in view of the "brevity of life" and in order to "appreciate the shortness of our days," according to some translations. James 4:14 poses the question, "What is your life? You are a mist (vapor) that appears for a little while and then vanishes."
If I need another reminder, Isaiah 40:6 and 7 declares, "All flesh is grass, and all its loveliness is like the flower of the field. The grass withers, the flower fades, when the breath of the Lord blows upon it. Surely the people are grass." First Peter 1:24 echoes the grass metaphor. When we finally arrive in Heaven, we will most likely be surprised by many things, but nothing will amaze us more than how short life on earth really was.
When I was young, I mistakenly viewed my days as stretching endlessly. They seemed almost infinite and so, I reasoned, there wasn't any need to number them or to think about them ending. Many of my days seemed trivial, mundane, ordinary, and meaningless. Now, as the days, years and decades have come and gone, I have begun to gain in wisdom and to lean harder on God to teach me the value of each day, to consider each day separate from the next, distinct in its purpose, unique and significant in the way I should live it.
David startles me in Psalm 139:16-18 by declaring that in God's Book "the days that were ordained for me, when as yet there was not one of them, were all written." And that the sum of God's thoughts about them were vast "if I should count them...." What an awesome thought! Well then, I will leave the counting up to God.
Anyway, God has a different vantage point. He said that each day, this very day, is like a thousand years in His eternal perspective. I can't seem to wrap my mind around that mysterious concept. I do understand this basic truth: if I am "in Christ" my days will never end for my eternal, God-given spirit even if I put a dozen zeros after the current number!
Could this imply that God is so intensely interested in my days that He pays attention to my encounters with people, my emails, my conversations, my prayers, my deeds? Each of my days counts with Him then! Lord, does it mean that You have recorded this very day of mine in Your Book of Life and given it a number? And that I will be held accountable for what I have done with it?
My friend's porcelain gift can speak! What does it say? It tells me that—now that I am 95--each of the past 34,675 days in the past has counted with God. I guess that would have to include about 180 days quarantined so far with this pandemic adventure. Surely those days were also ordained by the Lord too and counted in His big plan.
Moreover, that each of my remaining days counts. Each day comes to me fresh from God's loving, generous heart. I can count on the Lord to be always available to teach me how I should live with a wise heart to present back to Him.

My life is God's gift to me. What I do with the days of my life is my gift to God.