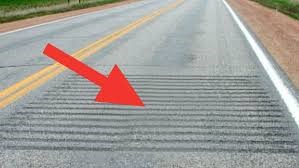 I was in the process of digging up some facts for this blog post about those annoying yet often life-saving, alert strips on the road that make a deafening, grumbling, growling noise when you drive over them too fast—when I encountered one myself.
It wasn't a concrete or asphalt strip on the road, but a potential emotionally unsettling one in the form of an unexpected phone call on a certain morning from my doctor's office after a recent medical checkup. It too rattled my ear drums.
Rumble strips are put on roads for a purpose; sometimes to wake us up if we are dangerously drowsy and nodding off. They keep us in line if we tend to drift off-lane, slow us down if our speed is excessive, warn us of something ahead—that sort of thing. Sometimes there is only one rumble strip to cross, sometimes a whole series of them to be sure we are taking them seriously.
They are in the center of the road or across the road or along the shoulder, or at the entrance to school property. Sometimes signs warn us that strips are ahead; sometimes they just pop up by surprise to startle us. We better not ignore them.
They have their parallel in the spiritual life. Perhaps you have encountered some rumble strips yourself. Medical reports, health issues, relationship upheavals, sudden losses, financial reversals, relocation pressure, loss of independence, forced retirement, family crises--endless possibilities.
During this pandemic, it seems as if we are driving over a continuous field of rumble strips, like being off-road on bumpy terrain with scattered rocks and debris throwing us off balance. All the above issues are magnified when we are forced into close quarters with family 24/7 or isolated alone under possible life and death situations. Job loss compounds the career plans of some with the ability to support our families high on the anxiety list of fears in others. Interruption of college brought students back home to rethink their future course in life.
These trials are the equivalent of a loving tap on the shoulder by God to get our attention, a caution signal to stay vigilant, if we are driving merrily, merrily with speed set on cruise along "Carefree Avenue" or "Taking-Life-For-Granted Boulevard."
These signals from God are not random or haphazard. This is all happening on His watch. He wants to communicate with us and shake up our priorities and settle them into better perspective with eternal values. We are not victims of chance. God has our back and is working out His purposes for good in our lives.
Our best response? Let's listen up to those rumble strips. It is safest to consider them as STOP—LOOK--LISTEN signs.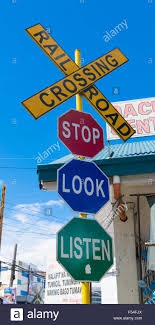 We have been forced to STOP all our usual occupations in quarantine; to LOOK outwardly around us for danger areas that might threaten us and inwardly search our hearts whether we are in line with God's will; to LISTEN to what God is asking us to change when we emerge from being sequestered.
It is more than likely that it will cost us to OBEY what God will ask of us. However, it will cost us far more not to obey!