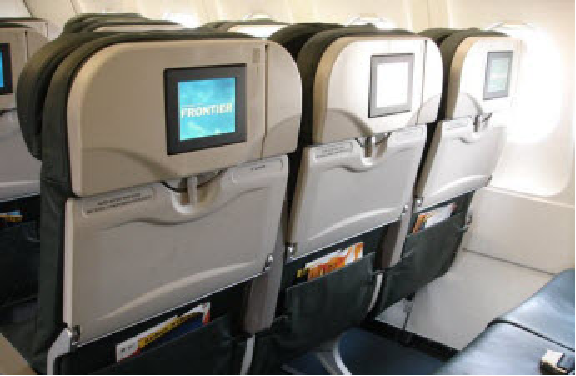 "Are we there yet?" our children in the back seat of our car so often whined on a road trip. "You'll know when we get there!" we impatiently reply.
On a return trip from Europe on Swiss Air flight #128, I experienced for the first time the personal video display screens mounted on the back of the passenger seat in front of me. We could know almost as accurately as the pilot our ETA.
The screen displayed a full color panorama of the land and ocean over which our plane was flying. T monitor was continually changing. I could follow the small icon of our plane as it made its way from Zurich, our point of departure, to our destination.
The screen informed me in detail of changes in altitude, temperature, distance already covered, distance remaining until landing, the plane's speed, the actual hours in flight, present location, and the projected time from point to point. Intermittently the view flipped and expanded to include the entire scope of the earth and our little plane icon proportionately displayed as a moving dot. I could see the seascape, the landscape, the atmospheric conditions above the earth, and the updated ETA.
As passengers, we always knew exactly how far we were from our destination. Unless some catastrophe occurred to abort our flight and we crashed into the sea, I could count on the precise time of arrival.
As the hours passed, I followed our hardly noticeable descent in altitude, and when we landed at Dulles International Airport in Virginia after nine hours in flight, the monitor informed me how many miles I traveled while relaxing comfortably above the clouds—"seated in the heavenlies," so to speak. We experienced some scary times of "fasten your seat belt" turbulence and some nail-biting stormy weather, but we safely landed.
That is not the case with our earthly lives. Most of us know the time of our arrival, our birth, since it was recorded on our birth certificate. The time of our soul's departure from Planet Earth is veiled from us by God. I can ask in vain, "Am I There yet?" Some people would like the luxury of viewing their lives on a display screen as a little icon moving along, so they could plan their lives accordingly. They could speed up what they still wanted to accomplish or experience on their "bucket list," if they knew their time was short. Or relax a little if they knew that generous longevity still lay ahead. Perhaps I would not like to know so precisely.
When we do reach an advanced age, we can speculate more accurately that the arrival at our Destination can't be too far off. One hundred percent of humanity dies; it is absolutely certain that each generation will pass off the earthly scene.
As I write these words, I have friends in Hospice residences agonizing with the question, "How long yet?" They grow impatient with the length of their painful journey and besetting weakness. Their lamp is burning low as oil is running out.
Time is beginning to drag on us during this prolonged virus pandemic. Thoughts of our mortality bombard us in our isolation. We deal daily with the realities of life and death as our friends succumb to the virus and leave us, We grow anxious whether we will be able to stay the course and endure. We look for the release from our confinement and reconnecting with a life that we are told will be unlike what we experienced before. "Are we there yet?" We feel ourselves stumbling and falling.
Like the five wise virgins in Matthew 25, I should always be ready for the coming of the Bridegroom, since I don't know the ETA of His return. In the case of our earthly lives, whether we are young or old, the "reveal" of our Bridegroom may be heralded either (1) when we draw our last mortal breath here or (2) when Jesus Christ returns to earth at His promised glorious Second Coming.
In either case, my lamp should be full of Oil, symbolizing the fullness of the Holy Spirit. My wick trimmed to burn brightly, trimmed from the temporal attachments to this world. Like the oil lamps in the tent of meeting in Exodus 27, burning from evening to morning, the lamps required clear, pure oil from beaten olives to enable them to burn continuously and not flicker out from impurities. My oil is to be combined with spices and fragrant incense (of prayer and praise and worship) as I wait for my Bridegroom. Daily, continually, I should seek to be anointed with fresh oil (Psalm 92:10) so that my cup is perpetually running over (Psalm 23:5).
The answer to our question, "Are we there yet?" will be answered by our Heavenly Father who is the only one who knows "the day and the hour for our craft to touch down on the tarmac of Heaven. Then we'll hear the welcome: "Enter into the joy of your Lord!"
Meanwhile, our best posture is to "keep our Oil topped off" in case our ETA is TODAY!