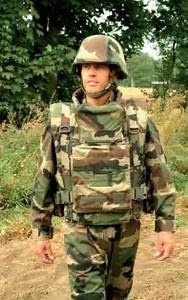 What shall I wear on a given day in these pandemic months? It doesn't seem like a hard decision. I'm quarantined alone and no one sees me. I'm one of those "vulnerables."
My favorite wardrobe is what I call my "fatigues." I still work most of the day at my computer in my writing studio. When we were first mandated to shelter-in-place, I thought "Woohoo! I'm free to wear my pajamas all day." Somehow the days began to blend together and every day seems like Saturday.
My fatigues are grungy sweat pants with unmatched, having-seen-better-days sweat shirts that I should have discarded into the rag bag long ago. My "fatigues" aren't the natty, patterned camouflaged design worn by military personnel. These days army fatigues are really quite dapper, with a variable camouflage pattern or monochrome shades of green or brown meant to conceal the soldier from the enemy during battle. They match the terrain in which they are fighting—sandy desert, tropical jungle, or treacherous mountain warfare.
My comfortable fatigues are my camo clothes too—they conceal the few pounds I might be gaining during this temptation time to indulge in comfort food too frequently. Today fatigues are worn when soldiers are on some ordinary assigned duty as well as when they are in combat. Imagine how unsuitable were the full dress uniforms the British soldiers wore when they tried to suppress the revolutionary conflict with the rag-tag militia of the New Colonies.
Why should I think about battles when I'm confined to my comfy shelter-in-place? However shut-in I feel under these distance restrictions, I feel safe hidden away like this. I can let down my spiritual defenses.
Not so fast! Do I recall what happened to King David in the Old Testament story when he sheltered-in place and let down his defenses? He became vulnerable while wearing his civilian robes (leisure suit or his version of around-home fatigues.)
David sent his soldiers out to the battlefield but didn't go with them as their leader, as had been his custom. He hung back and took it easy—and got into a heap of trouble while taking a stroll on his balcony. One thing led to another and the rest is unfortunate history. The negative reverberations in his family and his kingdom lasted as long as he lived.
Sequestered as we are, we are not in a safe place. Temptations and fears and anxieties pummel us. Our battlefield is under our invisible helmet—in our mind. For those of us who are alone 24/7, the devil has us all to himself. Plenty of time to terrorize our minds, unless we know how to resist and banish him.
We are tempted to self-pity which tries to throw a stifling blanket over us. We feel sorry for ourselves and become introspective. Anxieties bombard us with the "what-ifs" of the future taking over our emotions. Depression slips up from behind us and we lose all motivation as the hours and days and weeks and months drag by. We have no wind for our sails. We lose purpose. Day and night in silence provides too much time for memories—regrets keep playing on the movie screen of our minds.
We hear of care facilities where other friends are sequestered being closed to visitors and even families. Some of the residents are ill and dying without the comfort of close family. We sorrow at news of friends who have died while we have no way to reach out to their families, final services being postponed.
Hope becomes illusive when we can't see any light at the end of our present tunnel. We fear the unknown after we emerge from this prolonged nightmare. Fear that we will succumb to the virus and not survive haunts our dreams. We mourn the loss of our security.
Sheer loneliness, day and night without human companionship overwhelms us. We feel helpless to control anything that concerned our lives before COVID-19. We lose sleep worrying about our families and miss the children and grandchildren who are dear to our hearts.
All these assaults and temptations are attacking the minds especially of the vulnerables who live alone. Each one is a separate battle in an undeclared war that we had no time to prepare for.
We vulnerables and all who are sheltered-in-place will be fighting battles whether we are wearing our pajamas or fatigues. We can't let our minds be consumed with the thought that we are alone. Or let our imaginations run wild. "Casting down imaginations, and every high thing that exalts itself against the knowledge of God, and bringing into captivity every thought to the obedience of Christ" (2 Corinthians 10:5).
We are not alone since "God is our refuge and strength, a very present help in time of trouble" (Psalm 46:1). He has our backs. And "the hills around us are alive with horses and chariots and mighty angel warriors"—or the equivalent in modern warfare terms.
DESIGNER CLOTHES
Leona Choy
What shall I wear today, Lord?
I have a closet full of clothes,
but I don't know what I'll face.
What appointments lie ahead?
Shall I wear blue denim or lace?
I just can't decide.
Lord, will You choose
my proper outfit?
I'm sure You will provide
whatever is in vogue and classy.
It will be fine with me.
I know I'll be a hit.
Well, thanks...I guess.
What You chose does match:
military helmet and boots
all in camouflage design,
coordinating accessories,
a belt of truth.
But a sword to use?
I can't really say
that I expected to wear armor!
Something lighter perhaps,
chic and trendy,
even chosen in haste
would seem to have been
more to my taste.
But You know best
what or whom I'll meet
in the marketplace
and on the street
for which I'll need a shield,
breastplate and sword,
out on the field
of my day.
I feel secure now.
Come what may
I'll wear Your battle gear
more proudly than mink or sable
because this ensemble carries
Your designer label!
****
(Ephesians 6:10-18)