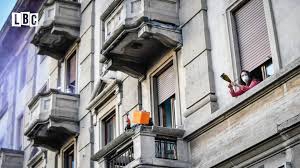 If nothing else, COVID-19 has stirred up the innovative in the sequestered. The seven hills of Rome are "alive to the sound of music." Because of the forced isolation also in Europe, ordinary folks in Italy are coming out onto their balconies, keeping to the distancing rules, and exercising their vocal cords. Entire families chime in. Popular songs or operatic airs bring people out on other balconies. Someone brings out an accordion, another, a guitar, another, a violin or a tambourine. No sweeter melodies are to be found than in the fresh air impromptu concerts from the multi-stories of apartment buildings.
Under the present anxiety of uncertainty and lack of outside social contact, singing can be a stress reducer. Because singing uses both sides of your brain, it literally takes your mind off your worries. You also get a shot of energy because crooning boosts oxygen and blood flow by working the lungs and other parts of the body required to project one's voice. Singing may lead to a stronger diaphragm due to the greater amount of oxygen needed to carry a tune. The breathing effort to sustain a song may improve lung function and reduce symptoms of mild asthma.
A little research turns up a lot of perks from our voice exercise. A person need not be auditioning for the next season of "American Idol" or "The Voice" to start belting out a favorite tune during the sequestered time freely provided for us by government mandate. Let's be patient with each other's amateur efforts, if we are in close quarters.
Scientists say that singing can have a calming but energizing effect, can help tame stress and lift the spirits. It's a natural antidepressant. Time magazine reports that singing may release endorphins associated with feelings of pleasure and stimulate the release of Oxycontin, a hormone found to alleviate anxiety. Moods improve when we start to sing.
Singing with a group can reduce loneliness by bringing together like-minded people engaged in the same activity. Obliged to be at home with children is a great chance to sing with them. Singing along with music on TV children's programs lightens the tension of 24/7 closeness.
And more? Singing can boost confidence, improve mental function, help with immune response, and be a form of cardiovascular exercise.
One of the losses in the senior stage of life is my singing voice. I happily sang through childhood. I didn't have the talent or discipline to play an instrument, although I longed to do so. Shy as I was, I could sing. I sang my way throughout high school and college participating in choruses and operettas and church choirs. I traveled with the Women's Glee Club all four of my college years performing in concerts throughout the country during seasonal school breaks.
Then lung cancer surgery and the aging factor put me at a disadvantage with diminished lung capacity. Allergies also plague me, and since I wear hearing aids, my own singing voice sounds unfamiliar to me. Nevertheless, I am quarantined alone and I can sing to my heart's content without disturbing anyone or being judged for making what the Bible calls "a joyful noise."
I can "sing unto the Lord" in private no matter how hoarse or scratchy my tonal quality. If I can't sing aloud, I can "make melody in my heart." I sing for an audience of One, Jesus. I'm determined to keep singing for Him and make the invisible hills surrounding the Shenandoah Valley also "come alive with music."
After all, the loss of my singing voice is just a temporary condition for this mortal segment of my life. By and by I may have the opportunity to sing with an angel chorus, if they accept non-angel members. Surely there is enough room in the vast universe for many choirs to praise God. The acoustics would be spectacular! I might not even have to audition since my voice will be perfect then. The music Up There must be fantastic and no health conditions or shortness of breath will need to be factored in.
Perhaps I'll be given the opportunity to fulfill my dream of learning to play an instrument in Heaven. I imagine there are other options than a harp. Perhaps one doesn't even have to practice because the "knowing how" is instant since everything happens in the Eternal Now. Cool!
I wouldn't be surprised if Handel or Mozart or Mendelssohn were still composing and conducting. For sure, Beethoven is no longer deaf and he is finally hearing his own compositions. Perhaps I'll have the exciting chance to sing King David's Psalms as he originally composed them!