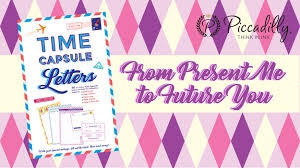 We can't say we don't have time, can we? Sheltered-in-place is giving us heaps and a bundle of time.
Our minds take flight to think about the future, both short-term and long-term. Many of us are missing contact and communication in real time with our progeny. We're reluctantly settling for virtual communication. Those of us with children, adult and more recently born, grandchildren and some of us with great-grandchildren, project those thoughts to when we will no longer be around to speak with them and enjoy their growing years.
Have you thought about composing some TIME CAPSULES?
A formal definition is: A container storing a selection of objects chosen as being typical of the present time, buried for discovery in the future. I'm not suggesting collecting objects but writing our hopes and dreams and prayers for those we are inevitably going to leave behind--sooner or later. Let's leave a sealed letter or several in our lock box or whatever container secures our Last Will and other important papers needed upon the closure of our life on Planet Earth.
This isn't a gloomy project but an energetic, happy activity giving us lasting personal satisfaction while we are still around. I think I can guarantee we will be so glad we did, while we had the sequestered time. How I wish my parents and grandparents had left something, anything, written about themselves or their hopes and dreams for me. Regretably, they left nothing. How I would treasure such a letter and pass it on to my descendants for a legacy. That's partly why I wrote my autobiography and other published books.
But you don't have to be a writer. Just write from your heart. Let those who come after you know something of the significance of your life, your personal Christian faith, your eternal expectations for Life after Life. Write separate letters for different family members, even those who are still toddlers now.
I had a golden opportunity to do that two years ago when my twin great-granddaughters celebrated their first birthday. Their parents initiated the project and invited family members and friends to participate. The infants were to open their TIME CAPSULE on their 18th birthday. I reproduce my written contribution verbatim below to spark your own creative ideas.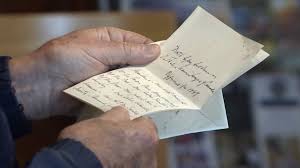 Think about this—What would you like to say to your own progeny years in the future, if you could step backward into time again and drop into their lives say 20 years or longer from now? I dare say that such "speak to the future" letters might be one of the most eternally significant activities you could do during your present sequestered time. Seal the envelopes with a prayer and indicate when you want them opened.
My TIME CAPSULE letter given to parents of the twins on Sunday, April 29, 2018
Dear Great-grandchildren Abigail and Charlotte,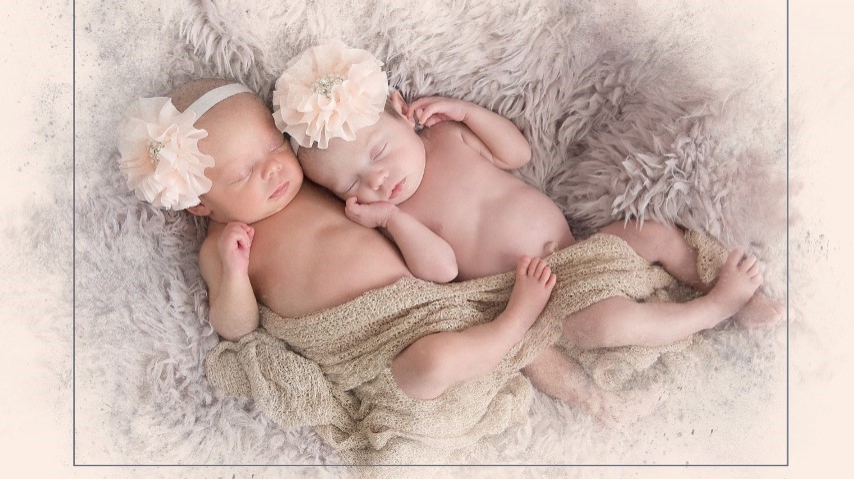 My name is Leona Choy. Many in our family call me "Bubi" which is the short form of the Czech language word pronounced "Bubi-tchka" which means "grandmother." I am your great-grand-Bubi.
I was so excited to meet both of you beautiful babies when you came to visit me soon after you were born!

Today you are celebrating your first birthday in real time, but apparently you will not be reading this note from me until you are 18 years old. We used to say that something like that is pretty "cool." I don't know what newly coined words you say at the time you are reading this.

I wonder what you both look like as you are reading this 18 years later—you are two beautiful, intelligent young women for sure, who are probably living in a much different society than you were when you celebrated your first birthday. I can hardly imagine what your world will be like in 2036.
I won't be around to celebrate your 18th birthday with you. I expect to be in Heaven where I also anticipate meeting you girls someday. Then we will all be together again like when we were on Earth and we'll have a mega-celebration to get to know each other again.
I might actually know all about your growing years even when I'm in Heaven. That's what I'm hoping. I've been praying to our Heavenly Father God for you every day since long before you were born. When I get to Heaven, I believe I will keep on doing the same thing—praying for you every day.
Maybe they don't count days in Heaven since everything there is always in the present forever? Perhaps God sends His angels to Earth to carry out the answers to the prayers we are bringing to Him for those we love who are still on Earth—like you. We will have lots of exciting surprises when we get to Heaven!
You probably won't remember me when you are 18 because you were too young to figure out who is who among all the people in your family who love you. As you grow, you will sort out who is who. But your G-G Bubi has written a lot of books so that when you read them, you will get to know me too. Perhaps one or both of you will become writers some day?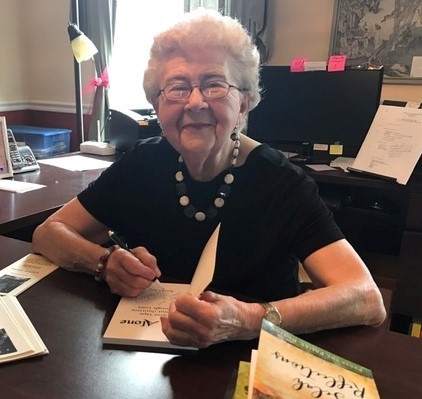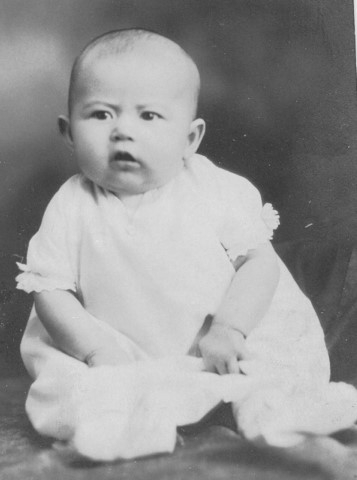 I was once a baby like you girls. This is my picture before I was one year old. I didn't have any sisters or brothers. When I grew up I had children of my own, four boys. Your Poppy Cliff was one of them. In thd picture below he is the boy in the middle in front of me holding Poppy's baby brother, Jeffrey. My mother is on my right and Poppy's daddy is on my left.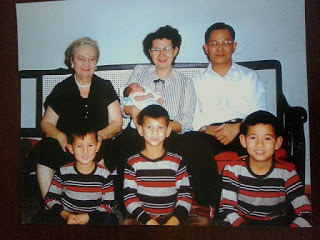 I didn't have any sisters or brothers. When I grew up I was happy to have children of my own, four boys. Your Poppy Cliff was one of them. This is a picture of Poppy with his brothers when he was a little boy. He is the one sitting in front of me. Yes, that is me, G-G Bubi holding Poppy's new baby brother, Jeff. To my right is my mother, Marie. To my left is Poppy's Daddy, Ted.
Years went by and I was thrilled to have 10 grandchildren...your Mommy Kristen was one of them. Eventually God blessed me with great-grandchildren like you. You girls were #12 and #13 of my great-grandchildren..Then more years went by and I had the fun of growing really older.
Below is my picture on my birthday when I was 90 years old. I am almost 93 when I am writing this letter to you.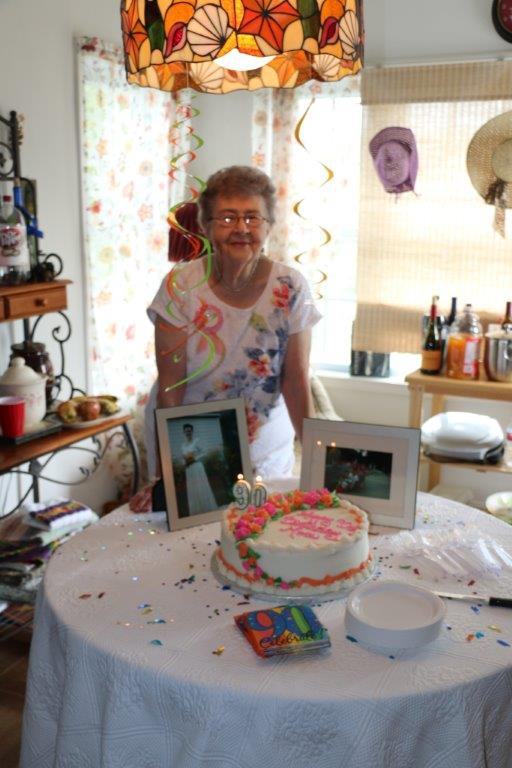 Through the love that your Daddy Bob and Mommy Kristen had for each other, you girls were born. That is how you got your earthly bodies. I call them "earth suits." Those bodies will grow old someday too.
But when you were born, God also gave each of you a soul or spirit deep within you and invisible. That is the "real you." Because God made your soul for living forever and ever, it will never grow old and die.
God loves you more than you can imagine and wants to be your closest Friend and Heavenly Father all your lives. God is with you constantly so you will never need to feel alone even at times when you will be away from each other and living your own lives separately. He designed a wonderful and different plan for both of you for your lives according to the talents and gifts and abilities He has given differently to both of you. I get so excited to think about what you both will become in your lives!

I want you to know that I love you dearly and I'm so proud to have you in my life. I want to give you a blessing that will last forever:
"May the Lord bless you and watch, guard, and keep you and cause His face to shine upon you (that means "smile") and enlighten you and be gracious, kind, merciful and giving favor to you; May the Lord lift up His approving countenance upon you and give you peace, tranquility of heart and life continually." (Numbers 6:24-26)
I pray that God may lead you, Abigail and Charlotte, all through your lives ahead and bless and prosper you in all your ways—forever and forever.
HAPPY 18TH BIRTHDAY!
With all my love,
Your great-grand-Bubi
Leona Choy