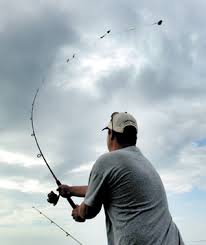 Being sequestered in our homes to avoid the highly contagious Covid-19 pandemic, we can easily accumulate a serious collection of worries and concerns. They can overwhelm us unless we learn to do something about them. I dug around in the mine of 1 Peter 5:7 to find the gold of encouragement and hope and discovered valuable, shiny nuggets as I unpacked that short verse.

"Casting all your care upon Him for He cares for you." A simple action and an incredible result. Various translations of that verse reveal the meaning more clearly: "Casting the whole of your care [all your anxieties, all your worries, all your concerns, once and for all] on Him, for He cares for you affectionately and cares about you watchfully." AMP "You can throw the whole weight of your anxieties upon him, for you are his personal concern."
"Casting" by definition means throwing, and hurling. Not a reluctant relinquishing of something that would need to be repeated. More like violently heaving a stone into a river not expecting to ever retrieve it.
"Casting" is also an action when fishing with a pole. A line with bait on a hook is swung from over one's shoulder as far into the river or lake as possible. The fisherman expects to reel it back in and repeatedly cast it until a fish bites on the hook.
Applying it as the Scriptures do to our cares or burdens or worries or anxieties, I admit to usually being guilty of casting in the second fishing fashion. Casting my cares on Him as He wants me to in the first definition? Not so much. I'm inclined to reel back some worry or care which I may have tentatively given to God to take care of—and then I hug the care or anxiety to myself again, trying to solve a problem or carry a burden alone—an impossible task. This despite His promise to care for me, to sustain me, to hold me up, to deliver me, to provide for me.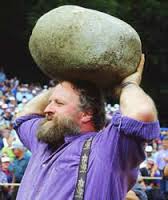 Peter, the disciple-then-apostle to whom Jesus committed the keys of the Kingdom, wrote this promise in his mature years with ample experience of God's faithfulness. He spells out clearly that I must "cast" – intentionally hurl, throw with no taking back ALL my cares, worries, problems, anxieties. Where? On God. Trust in God is essential. No half-way action. Like the rock thrown into the river.
The Psalmist, King David, gave us the same promise. "Cast your burden upon the Lord, and He will sustain you. He will never allow the righteous to be shaken." (Psalm 55:22) A personal, national, global shaking is going on even as I write. It threatens to make changes in our lives that are permanent. The foundations of our society, our relationships, means of livelihood, education, restrictions on our worship are being jolted out of place along with transportation and communication. The earthquakes in society seem to be echoing the ever-increasing earthquake activity on our planet.
I confess that I do need more casting practice—but not with a fishing pole. With hurling the rocks of my anxieties, problems, concerns, and cares of this world that weigh me down, Not casting them into some river, but to Jesus who invited me to come unto Him with my heavy burdens and He will take care of them. They are too heavy for me, but Jesus said that His yoke is easy and His burden is light.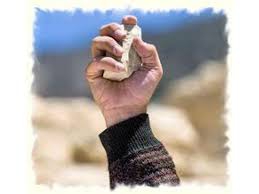 I suggest we give a name to each of the burdens we are casting on Him. Let's be intentional and specific. We can use the listing in Romans 8:35-39: tribulation, distress, persecution, famine, nakedness, danger, sword, death, life, angels, rulers, things present, things to come, powers, height and depth." And just in case something is left out and not covered by such worries, Paul adds, "Nor anything else in all creation." I cast my fear of the future for myself and my family. No matter how heavy the burden, Jesus will carry it for me!
How does God care for us, if we cast our care upon Him? In a modern translation, we have the assurance:
"So, what do you think? With God on our side like this, how can we lose? If God didn't hesitate to put everything on the line for us, embracing our condition and exposing himself to the worst by sending his own Son, is there anything else he wouldn't gladly and freely do for us?
"And who would dare tangle with God by messing with one of God's chosen? Who would dare even to point a finger? The One who died for us—who was raised to life for us!—is in the presence of God at this very moment sticking up for us.
"Do you think anyone is going to be able to drive a wedge between us and Christ's love for us? There is no way! Not trouble, not hard times, not hatred, not hunger, not homelessness, not bullying threats, not backstabbing, not even the worst sins listed in Scripture: They kill us in cold blood because they hate You. We're sitting ducks; they pick us off one by one. None of this fazes us because Jesus loves us.
"I'm absolutely convinced that nothing—nothing living or dead, angelic or demonic, today or tomorrow, high or low, thinkable or unthinkable—absolutely nothing can get between us and God's love because of the way that Jesus our Master has embraced us." MSG Romans 8:35-39