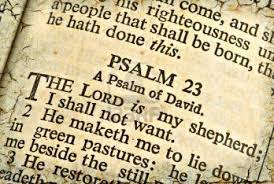 This is a sequel to my previous blog post about delving more deeply into the treasures of the Psalms. There is still another exciting spiritual way to worship through the Psalms. Chant them with a vocal sound between speech and music which is available to anyone.
We don't need to be musically trained or have an acceptable singing voice. Dogs may howl when you try singing. Our vocal cords can even be gravelly with age. In fact, even if "you can't carry a tune in a basket," you can still chant! I'm talking specifically about chanting the Psalms individually, privately, not in a church but as a devotional practice between you and God.
To chant is simply to speak or sing rhythmically in words or sounds without harmony or instruments. Chant is a monophonic series of syllables or words uttered rhythmically on the same note or a limited range of notes presented monotonously without much voice inflection. To chant means to repeat something in a monotone with a slight vocal sound behind it.
In antiquity, even before recorded history, it is thought that chanting was one of the first vocal forms of what eventually developed into what we now call music. Battle cries, the shouts of protesters, even repetitive calls of sports fans for their teams can be considered a form of chanting.
Forget the negative use of chant as in frenzied ritual songs and dances of pagan societies calling upon their demonic spirits or gods. Chants or mantras spoken or sung for the purpose of opening the mind to undefined spiritual influences are evil and dangerous. Also, for the purpose of our discussion, forget the beautiful, sophisticated, professionally performed Monastic Gregorian chants. We're not aiming at that kind of chant.
I'm offering suggestions appropriate for all of us modern day lay Christians eager to use chant in our private worship. The rhythm of the Hebrew poetry in the Psalms in parallel lines lends itself perfectly to simple chant—even when translated fom the Hebrew into English or other languages. The chant I propose is from the biblical text itself, non-sectarian and not associated with any particular Christian ecclesial entity. Chant is a way to read Scripture aloud in a worship style.
The earliest Christians were all Jewish and carried over some of their traditional religious songs, perhaps changing the words over time to reflect their new experiences and beliefs. For sure they would have continued singing the Psalms with which all Jewish people were familiar. Music was generally learned by heart through repetition. There's a good chance that much of it was chanted.
There is little in the Bible to tell us how the Jewish people sang in worship or how we are to sing, technically speaking. We have no sound recordings preserved to tell us what the music was like which David and other psalmists composed. The period of David and Solomon was the golden age of Hebrew music and poetry. Jubal was named as the inventor of musical instruments (Gen. 4:21). The Hebrews were much given to the cultivation of music. It was an essential part of training in the schools of the prophets (1 Sam. 10:5). There arose a class of professional singers (2 Sam. 19:35; Eccl. 2:8). Solomon's Temple, however, was the great school of music. In the conducting of its services large groups of trained singers and players of instruments were constantly employed (2 Sam. 6:5; 1 Chr. 15:16; 23;5; 25:1–6). Don't you wonder what that music sounded like? Only a few written notes of instruction are appended to some psalms of which the meaning is mainly obscure to us. We'll have to wait for Heaven and be delightfully surprised beyond what we could imagine.
We know something of Synagogue chants of Jesus' day. In His boyhood rabbinical school, Jesus would have learned to recite all the Psalms. There is good reason to believe He chanted them. Chants were also used in processional singing on the annual treks to Jerusalem. Wouldn't we like to know what song it was when the Bible says, "when [Jesus and His disciples] had sung a hymn, they went out to the Mount of Olives." We could guess it was a Psalm—more than likely chanted. Doesn't it excite you to try to learn to chant as close as we can to the Psalms as David and Jesus did?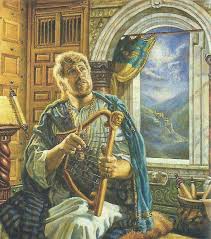 The Bible tells us to make "a joyful noise" unto the Lord (Psalm 95:1–2). Paul encouraged us to sing "psalms and hymns, and spiritual songs" as a form of worship (Ephesians 5:19; Colossians 3:16). A chant or song-like prayer can deeply convey our worship of God, express thanks and trust and dependence on Him, and offer our petitions to Him. That's what the Psalms are all about. Chanting them in our private devotions is a beautiful expression of worship.
Here are two simple tutorials for beginners to show you how to chant the Psalms.
https://www.youtube.com/watch?v=FdmyaixzDXs
https://www.youtube.com/watch?v=uL1mLDM-wSo
After you've viewed the above links, in a nutshell: first sort of hum to find your own comfortable pitch without strain. Voice the words of the first phrase of a psalm all on that one note; on the final few words, either raise your voice up to the next note or drop it down to the one below. In either case, stay at that chosen pitch for the first phrase of the next line and then again drop it or raise it in the opposite direction. Finish off the stanza or verse by dropping down to a lower note for the final words. Just practice. You'll grow to love reading the Psalms this way.
There are many other patterns of chant available for you to experiment with. The one above is a simple one-size-fits-all and it will work to chant all the psalms. After you get the hang of it, you can improvise and just let your chant go where it will according to the sacred words before you. You are the boss of your chant. Because there are no original compositions to be found, there is no right or wrong. You are on your way to an exciting worship adventure. The Lord will be delighted to hear and accept your praise and answer your prayer petitions.