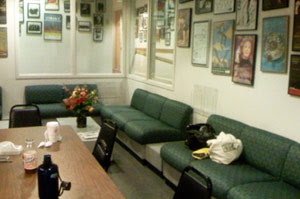 I admit not knowing what a Green Room was when I heard someone refer to it on TV talk shows. I did some digging. Found intriguing speculations about its origins and use which immediately sparked some startling analogies to our present experience in this virus pandemic.
Basically, in "live" theater performances as on Broadway, on TV or similar venues, the Green Room is a designated space near the stage used as a waiting room and lounge. Specifically for performers before and after and during the show when they are not engaged on stage. Green Rooms are typically decorated to foster relaxation, to chill out in.
So, are the rooms really green? Not necessarily, but the color reference is from tradition, some traditions originating in the Shakespearean era or Greek and Roman plays. Early on, most plays took place out in the open on simple, makeshift stages in green grassy areas. The audience sat surrounding the stage on what we would call modern bleachers at sport events. In Medieval theater, rehearsals also took place "in the green forests." Uncured, plaster-like cake-makeup in early times was sort of greenish and took a long time to harden on the faces of actors, so they hung out "on the green" grass behind the stage waiting for it to harden. Actors also changed costumes there between scenes.
In early "live" theater, this waiting room or warm-up room was sometimes called the "Tiring Room," an abbreviation for "attiring" or putting on costumes. In time, theater went indoors and a transition room backstage called the Green Room was set aside for actors awaiting their call to go on stage. Performers from earliest times were often young understudies, inexperienced, very "green" rookies understandably nervous—even nauseous with stage fright, turning "green" as they awaited their big moment in the limelight.
Modern Green Rooms tend to be glitzy and luxurious lounging places with calming decor complete complete with snacks and drinks to help those who are waiting to chill out. In today's TV world they have the advantage of "live" TV monitors where they can observe what is going on with the performance of someone preceding them. The early tradition continues to fill the space with greenery, plants and shrubs which are said to provide moisture in the air to soothe the throats of singers and speakers. Some rooms are actually still painted various shades of green to relieve eye-strain from the glare of bright stage lighting.
A PERSONAL MESSAGE TO US "AGE—VULNERABLES" FROM SIXTY ON UP—OPEN OUR EYES, LORD!
Spiritual evil forces have targeted us as a "throw away" generation of has-beens and are seeking to destroy our legacy and Christian witness with one fell swoop. The devil is out to eliminate an entire generation of hopefully wisdom-seasoned retired folks by means of this disease. We must resist him in the name of Jesus and cooperate with the Lord's plan to turn what was meant for evil into God's good.
Yes, we are each confined to our private Green Rooms now; our influence seems stifled; we are separated from family and support relationships and seemingly from corporate worship and fruitful ministry. Nevertheless, prayer and preparation are fully available to us. Our due date is yet to come.
We are not confined by accident or government mandate or even our own choice. God is working behind the scenes and still has a purpose for each of our lives, no matter how young or how old we are, in His great Kingdom plan which is swiftly beginning to be revealed. Let us pray not only to survive this God-planned slice of sheltered time and thwart the devil's plan against our generation, but to be alert to prepare ourselves for what could be our finest hour of witness when we leave our Green Room.
"Beloved, we are God's children now, and what we will be has not yet appeared; but we know that when He appears we shall be like him, because we shall see Him as He is; And everyone who has this hope in Him purifies himself, just as Christ is pure." (1 John 3:2,3)
God planned this cloistered period to give us "vulnerables" a slice of time to earnestly seek His face and His will and "the part He has chosen for us on a new stage" in a different world than the comfort zone of life we experienced barely a few months ago. God still has unfinished plans for us. Our new normal and the world's may be a massive paradigm shift.
We may soon be called to center stage as actors playing the parts for which He is now preparing us. They may be different, unfamiliar roles we have not rehearsed. In God's new drama, He may require us to wear different costumes from those we wore before. The background scenery will have changed. We may have to learn new lines of speech in our continuing roles.
We will no longer wear masks in social interaction as we are now obliged to. We will reveal by our actions who we really are in Christ. The bright stage lights will be focused on us. The world will be watching how we respond to whatever the new conditions will be, anticipating to hear our wisdom garnered from our long experience through many troubled times under the guidance of God. We will be recognized for Whose we are—we openly belong to Jesus Christ.
When we finally leave our Green Room to resume the stage of our influence, we will have to take our stand for the Faith courageously or else slink away as cowards. No middle ground. A fresh anointing of the Holy Spirit is available to us, (Psalm 92:10) should we choose to receive it, along with abundant spiritual strength for our latter years and the ample provision of all we need. We can be prepared to encounter the new, massive paradigm shift that witnessing for Christ will demand.
God is giving our generation sufficient time in our Green Rooms to grow closer to Him, to build ourselves up in the Word of God, to wait in His presence, to nurture our souls. As senior saints, we may feel drowsy with a tendency to nod off as we await the Coming of the Bridegroom. (Matthew 25:) But God is giving us this chance to "buy and stock up on sufficient Oil" and trim our lamps for the time when our shining light is needed to pierce the darkness.
Our generation will still be needed in God's grand plan. God may be preparing us to help the "green, young understudies" with our seasoned wisdom and compassion. God is providing us with Green Pasture time (Psalm 23) beside the still waters to restore our souls, to be renewed from weariness that so easily besets us because of the length of our life journey. God expects us to continue "yielding fruit in old age and to be full of sap and Very Green, to declare that the Lord is upright; He is my Rock and there is no unrighteousness in Him" (Psalm 92:14, 15).
Our calm and peaceful Green Room, our sheltered-in-place at home, our warming-up room, is like a temporary Greenhouse to grow nutritious produce in a safe, protected artificial environment in an accelerated period of time for future need. In this Greenhouse we can nurture with prayer and the enlightening, energizing of the Holy Spirit a crop of fresh plantings of ideas and ways to be shining lights for Jesus in the new opportunities we will face.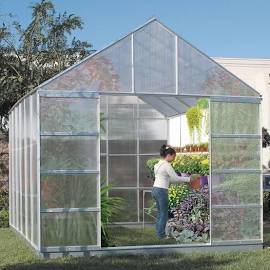 We have been watching "the present actors" on God's stage on our Green Room TV monitor. Let's be aware that our big moment is still to come—after God has prepared us! We await His call for our time on the stage in the new paradigm. Let's redeem the time and prepare ourselves to be about our Father's business.