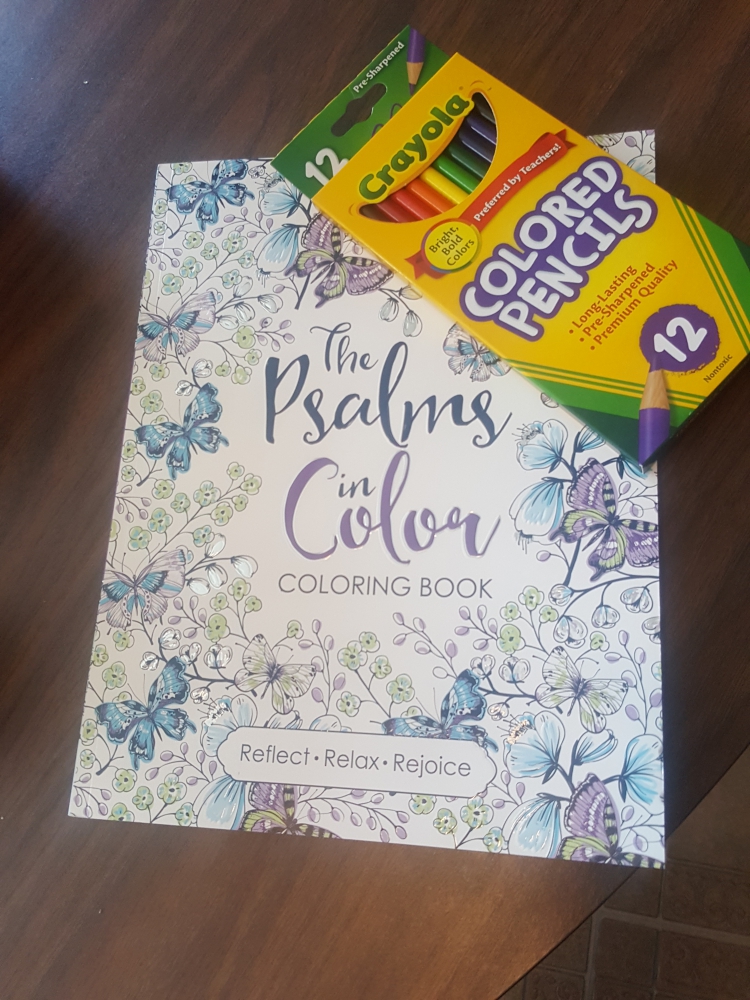 My thoughtful, college student grandson Jeffrey gifted me with a most beautiful, elegant coloring book at Easter. (I remember buying him such books when he was a pre-schooler!) I'm nearly 95—am I back to coloring again? A loud hint that I should relax more? Surprisingly, many of my peer longevity friends and other adults are into the new/old fad of coloring. I've been too occupied with creative writing throughout my life to need the promised relief from stress for those who love to color. But I digress—I'll research this coloring pastime and write a post about it sometime.
I want to focus on the delightful color to our lives that is available from the ancient-yet-always relevant "hymn book" which is right in the middle of our Bibles. Open your Bible flat and there you are. I just did that and it happened to open right at the familiar Psalm 23. Since the onset of our "shelter-in-place" new and unexplored life experience, much attention seems to be given to encouraging verses from the Psalms. Most people know about Psalm 91 now.
At the same time, I've found that even many Christians don't know what this longest book in the Bible is all about, who wrote it and when and why. Let me give you a brief refresher so you can fully enjoy the worship experience that awaits you day by day if you immerse yourself into the treasures of its pages.
The title means "Songs of Praise and Worship." A gold mine of theology, spirituality and human emotion of every kind, it was originally meant for use both in public worship and private devotion or piety. The 150 songs were meant to be accompanied by stringed and other instruments and in some cases choirs. They were considered poetry but not rhymed as we are accustomed to. Hebrew poetry used parallelism, the repetition of a thought in a parallel clause. The psalms were meant to be sung or chanted, sung antiphonally back and forth between groups with a refrain or antiphon. Some were meant to accompany processions on Jewish holy days.
Tradition dates the Psalter back to Israel's golden age, about 1000 B.C., which would be over 3000 years ago. King David's name is associated with the entire book. He was well-known as a musician, gathering and training choirs and composing music for them as well as playing instruments himself. He may have compiled this anthology of individual psalms of which he composed 73 songs. A "worship leader" of the highest calibre, you might say.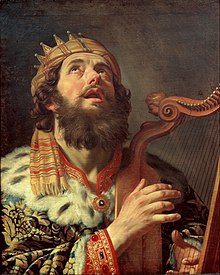 Other composers were Asaph, the sons of Korah, Solomon, Heman, Ethan, Moses and Jeduthan. Haggai and Zechariah are thought by some scholars to have authored five. These are divided into five books or parts, each with similar yet distinctive topics. Doxologies (benedictions, Praise the Lord! acclamations) appear at the end of each section.
Some psalms (about 14) are Messianic looking forward to the coming of Christ. In Luke 24:44 the risen Jesus authenticated that some of the Psalms were written about Himself. The musical notations and dedications attached to particular Psalms are part of the ancient text and don't seem to be entirely understood in this modern age.
Written so long ago in an ancient culture, how can we "own" their expressions in our private devotions today? David not only wrote to express his personal faith experiences and emotions of the moment, but he wrote for others, for all of us, so we may freely take the prayers and praises to heart as our own. This has been true through the ages making the psalms always relevant. Many topics express prayer in times of trouble and distress, war and suffering. Whatever our circumstances or range of human emotions and sentiments--from joy and contentment to sadness and despair, and even anger and indignation--we can find our expression in a psalm. Ephesians 5:19 encourages our use of "psalms and hymns and spiritual songs...."
The Jewish people throughout the centuries have revered and recited the Psalms in their synagogue services and privately, even memorizing the entire Psalter. That was also required in the early Christian church monastic Orders. Are you up to trying that? The Psalms have always been a much-loved and important part of worship among Christian churches throughout the world.
How can you and I tap into this rich treasury of spiritual gems? We can read them, we can recite them aloud, we can sing them (no record remains of the music from the original compositions, so we can compose our own music to these grand words); we can chant the words to traditional chant forms or make up our own chant; we can commit to memory large sections of this deep well of worship liturgy; we can pray the Psalms, personalizing them to "I" and enter into intimate communion with the God whom King David knew millennia in the past. These ancient mysteries of praise and petition are just waiting to be embraced by us for our encouragement in our current virus pandemic.
To the Chief Musician. A Psalm of the sons of Korah, set to soprano voices. A Song.
"God is our refuge and strength [mighty and impenetrable], A very present and well-proved help in trouble." (AMP Psalm 46:1)