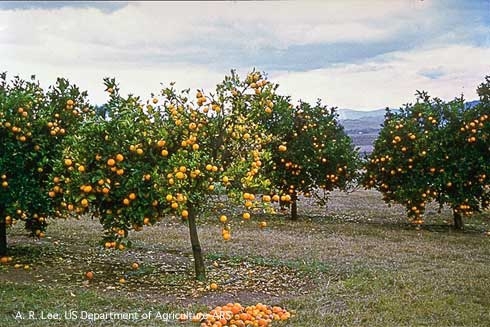 Scripture compares a faithful Christian to a fruit-bearing tree. I'm supposed to be one of those trees and subject to the scrutiny of God, the Divine Fruit Inspector.
A tree bears fruit not just to look pretty or smell fragrant, but for the benefit of others. Eventually the fruit has to be separated from my tree to accomplish God's purpose for me as a fruit tree. Someone must pick the fruit, it must drop naturally when it is ripe, or someone or something has to shake my tree to dislodge the fruit.
As I write this, a global pandemic is shaking the people of the world, a shaking such as we have never experienced on such a scale. We are staggered by the loss of human life worldwide. The upheaval of economy and society is esclating from day to day. Life as we have known it seems gone forever. In the midst of such catastrophic times, we in whom the Spirit of God dwells likewise experience shaking to our personal life-trees.
Anxiety and fear of the deadly virus are shaking us violently and causing fruit to drop from our branches.What kind of fruit is dropping from us? When other people try to "eat the fruit" that drops from me, what are they tasting?
When I am shaken by the calamity that seems to be spreading like a dark shadow across the globe and creeping into my personal world, am I dropping fruit of anxiety, panic, fear, worry and confusion? If so, it is sour fruit, even rotten fruit. Certainly not nourishing.
God expects me to drop encouragement, hope, patience, love, kindness, compassion, steadfastness—all the nine fruits listed in Galatians for the building up of the Body of Christ. These are nutritious fruits. God has a purpose for allowing the shaking of my life-tree. Rather than being a bad thing, it can be in fulfillment of God's plan to distribute the life of Christ through me, not to fall ineffectively to the ground so that my witness opportunity is truncated.
The apostle Paul experienced various shakings during his missionary journeys. Sometimes it was from persecution by those who opposed his Gospel message; sometime through shipwreck and storms; other times it was by physical attacks, beatings and imprisonment. At one point he was shaken by a bodily illness. Each of his shakings resulted in a dropping of his good fruit for the benefit of those he was trying to reach for Christ.
The apostle Paul is not specific about the nature of the physical infirmity that shook him. In Galatians 4:13, "...it was because of a bodily illness that I preached the gospel to you...." Because of the context, we may speculate that Paul might have had a severe and miserable eye problem, perhaps painful, disfiguring and chronic. It forced him to interrupt his missionary journey to stay in Galatia somewhat longer to recover. This may have been what he referred to as his "thorn in the flesh" for which he prayed three times to be healed.
God denied his request but answered him in a more excellent way: (2 Cor. 12:7-10) that God's grace would be sufficient for his weakness and he would be joyful and fully content to experience the power of Christ. Whatever the nature of his informity, Paul took advantage of the prolonged negative circumstances to preach the gospel instead of indulging in a pity party. Adversity shook his tree and the Galatians benefited from the dropping of his good fruit.
In his letter to the Church in Galatia, Paul teaches and demonstrates by his life what the Fruit of the Spirit is all about. That Fruit doesn't suddenly appear overnight like Jack's beanstalk in the fairy tale. God doesn't "give" us fruit like He gives the Gifts for ministry appointed by the Holy Spirit. Fruit grows gradually on us from bud to blossom to full fruit as it does in nature. We grow the fruit of our Christian character with all those fruits or virtues itemized in Galatians chapter five. They mature in a gradual process throughout our lives. To "bear fruit and more fruit and much fruit" is the will of God for His children.
Early fruit is usually not sweet because it isn't ripe, it hasn't matured. Time hasn't mellowed it; it tends to be tart. The seeds it contains in the early stages are not fully developed either, and so can't reproduce in a normal, healthy way. The longer the fruit remains on the tree connected to the flowing, vital sap of the tree, the sweeter it becomes. In our chronological maturity our fruit should be the sweetest.
A bodily illness or other affliction or adversity, even our aging process in our summit season can shake us up and result in fruit falling from our tree. That fruit can be good or bad depending on its condition while growing on the tree. Hopefully, we've spent a lifetime developing good fruit.
I can express through my attitude and temperament and character those godly virtues listed in Galatians: love, joy, peace, patience, kindness, goodness, faithfulness, gentleness, and self-control. Whatever fruit of the Spirit God is developing in my life is always meant to affect and nourish everyone with whom I come in contact; I don't grow fruit just to look good.
When people eat our good, ripe fruit, it contains mature seeds which God have hopefully been growing in us. The seeds have the potential to reproduce our Lord's character in the lives of others—our family, our caregivers, if we are ill, or in those whom we are helping, our friends, those with whom we have rubbed shoulders in the public square or during our sheltered-at-home common daily events. These all need to see Jesus in you and me and in our fruit. Especially when we are under adversity attacks ourselves—hurting, afflicted, miserable with feeling our own weakness, suffering, and loss of control over normal aspects of our lives.
Let there be shaking then. Whatever or whoever has caused it, God uses all such happenings to shake our trees and dole out our good fruit for His glory and the benefit of others.