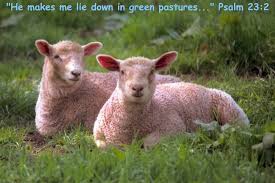 I don't like the idea of downtime. It sounds negative. It makes one think of loss, of pointless wasted time.
A business suffers downtime when equipment breaks down and everything grinds to a slowdown or halt. A computer failure immobilizes a bank. Downtime frustrates both customers and employees. An illness or disability sidelines us, and our seemingly urgent activities are forced to be put on hold. We become impatient, fretful and irritated. We tend to blame it on the devil who is known for throwing monkey wrenches into our plans.
Wait a minute! Why is the devil necessarily the culprit? Just because the word is "down" sounds evil and "up" sounds more spiritual? Isn't the Good Shepherd of Psalm 23 in charge of His human sheep for good and not for evil? Doesn't everything that comes into our lives get filtered through His love and care and providence?
"He makes me lie down in green pastures...." Why wouldn't I recognize that my downtime, whatever its source may be, is in the perfect plan of God? If I, as His less than smart sheep, don't have sense enough to take rest breaks and unplug from this technological world system to recollect myself and plug into His mind and heart, our Good Shepherd may have to arrange for us to "lie down in green pastures. And those green pastures in which I lie down may sometimes be between white hospital sheets with an illness or caused by enforced isolation from a global virus pandemic. God has many loving ways to bring us back on course to an eternal perspective.
Why? What is He thinking? The key is in the next phrase: "He restores my soul." We may not be aware of just how much we need such restoration until we experience some physical downtime that reminds us of our fragile mortality and human weakness. We are dependent on God for every breath to sustain our life.
I may have thought that I'm too busy to carve out a quiet solitude experience. There never seemed to be a convenient time. So the Good Shepherd chose His right time to interrupt my self-agenda so that He could better accomplish His purposes in me and through me by the restoration of my soul. And in His big Master plan, He extended that downtime blessing to many of His flocks of sheep globally.
I needed the quiet, so He took me aside
into the shadows where we could confide,
away from the bustle, where all day long
I hurried and worried, active and strong.
Yes, I needed the quiet, though at first I rebelled,
but gently, so gently, the cross He upheld,
and whispered so sweetly of spiritual things.
Weakened in body, my spirit took wings
to heights never dreamed in my active days.
He loved me so greatly He drew me away
To a beautiful valley of blessing instead,
a place to grow richer, in Jesus to hide.
I needed the quiet, so He took me aside.
(Author Unknown)
I have been accustomed to drive long distances in years past pushing myself to gain time at my destination. I have usually skipped the exits marked "Rest Area" posted at intervals for good reasons. Long time habits are difficult to break; I've always viewed Divine Downtime as a luxury. It is, however, a necessity provided by the Lord. God established the weekly Sabbath for just such a respite. And Jesus bid His busy disciples to "come apart and rest awhile."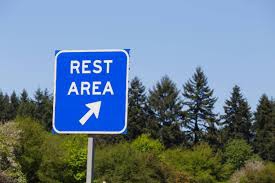 If we don't take time on our own to schedule it in, for sure God will lovingly "make" some green pasture time for us. The current "shelter-in-place" mandate forced by the virus threat may be such a blessing in disguise. Let's not struggle against it but roll around in the delicious, fresh green pasture joyfully like good sheep while learning the lessons He wants to teach us.