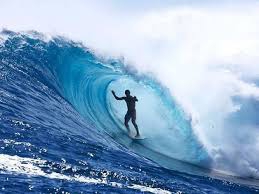 (Guest post by a viewer of this blog, Daniel Christ, well-known Pennsylvania Wildlife artist:danchristgallery.com).
Facing trials and adversities and afflictions head-on in these turbulent times can be a prime opportunity for Christians to demonstrate God's love. The love of God and the hope we have in Jesus enables us to live above our tumultuous circumstances. James 1:2 boldly instructs us to consider it pure joy when we face trials.
As an artist, I think in pictures. Oswald Chambers in his book My Utmost for His Highest gave me a visual perspective to help me understand the difference between the distress of a swimmer battling for his life against the ocean waves and the super joy of a surf rider when confronted with the same massive waves.
I visualize the ocean as the world full of swimmers struggling to survive in the waves that threaten to engulf them. In the surf-rider analogy, God's love is like a surf board. Jesus comes to save us, to carry us high above the churning waters. We cling to His provision and promises of salvation to experience His love and are carried safely above the waves. Many Christians would rather think of God's love as a raft and settle for the contentment of floating on an calm ocean without waves. A raft experience can never produce the exhilarating joy of confronting and conquering a monster wave on a surf board.
God doesn't want us to simply rest at ease in our salvation. He wants us to be engaged in the process, "to work it out," in the words of the apostle Paul. A surfer is vigilant to observe the waves coming at him and deliberately paddles into the oncoming waves to gain momentum. He is counting on the surf board to take him over the threatening waves.
There is rush of joyous emotion in cresting a wave to ride down the other side. All our efforts cease because they become useless. When we abandon ourselves to the wave, we become a surfer. By faith we must trust that surf board (God's love) and trust ourselves to the work of the Holy Spirit. Standing up on the board harnesses the energy of the wave to propel us forward. Not ahead of the wave, rather, down the length of it. The wave forms a tunnel of water threatening to crash over us, but we are being propelled toward the light at the end of the tunnel. We keep our eyes on that goal, not on the menacing wave which could crush us. We trust the love of God in which we stand.
It is when we burst forth from the foamy tunnel crashing behind us that we feel that indescribable joy. Though it may have been terrifying going through that watery tunnel, the experience of having to trust totally on the love of God to take us through creates in us such a thrill that when we reach the end of the wave, we use our momentum to turn up on the remaining wave and crest over it. The experience is so exciting that we paddle right back out into the ocean eager to ride another wave.
There may be times when a wave does succeed in upsetting us into the water, but like the surfer who has the board tethered to his ankle, the love of God will never leave or forsake us and helps us climb back on it. How many times Paul was nearly overcome by waves of adversities and persecutions only to get back on the board, as it were, and out to sea again joyfully to keep spreading the Gospel!
The overwhelming love of God and the sure hope we have in Jesus in this current crisis should motivate us as Christians to take opportunities to demonstrate that love and offer hope to the world of desperate swimmers in the ocean of life around us.
Paul declared in Philippians 1:21 that to live is Christ and to die is gain. At the end of each wave he turned back out to the sea—to live as Christ—until his course was finished. For us, as it did for Paul, there will come a time when that wave may wash us up on shore where we will find we are standing in Heaven—and to die was truly gain.
Whatever waves are still coming at us during this global pandemic, let's face them trusting in the love of God as our surf board. "For I am persuaded, that neither death, nor life, nor angels, nor principalities, nor powers, nor things present, nor things to come, Nor height, nor depth, nor any other creature, shall be able to separate us from the love of God, which is in Christ Jesus our Lord." (Romans 8:38-39) The joy of the Lord will be our strength!