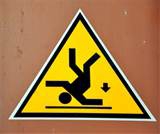 I pray for something now that wasn't on my prayer list earlier in my life. "Lord, keep me from falling!"
My medical persons warn me not to fall because my "earth suit" is now more fragile, and broken bones could be disastrous. Of course, I wouldn't put falling on my schedule. In my younger years I didn't have a problem with my balance. I could literally run to and fro in the fast lane of life. Being calendar-challenged now, compounded by polyneuropathy of my feet, changes the picture.
I see a correlation with my spiritual life. As individual Christians, in Scripture we are called building stones in God's Kingdom. Some of us who are thought of as solid rock Christians, when undergoing pressures and trials, have been known to slip and stumble and fall. Due to the length of the journey of life and the weariness of always trudging uphill, some of us lose our balance and fall. Nor is it a problem only for those in our later years. (Isaiah 40:30) "Even the youths shall faint and be weary, and the young men shall utterly fall."
Sometimes Christians whose lives are built on the Rock, who have known the joy of the Lord, as time goes on grow cold and lose their joy. (Luke 8:13) "But the ones on the rock are those who, when they hear, receive the word with joy; and these have no root, who believe for a while and in time of temptation fall away."
Rather than adversity, it could be prosperity and success that contribute to our fall. (1 Timothy 6:9) "But those who desire to be rich fall into temptation and a snare, and into many foolish and harmful lusts which drown men in destruction and perdition."
Do we think that we would never fall? Do I? (1 Corinthians 10:12) "Therefore let him who thinks he stands take heed lest he fall." The apostle Peter, of all people, bragged that although everyone else would fall away, he would never do so. You know the rest of the story. Peter sums it up from his own experience. (2 Peter 3:17) "You therefore, beloved, since you know this beforehand, beware lest you also fall from your own steadfastness, being led away with the error of the wicked." Scripture instructs us to look out for ourselves lest we fall.
Beyond that, we are responsible to lift up other "fallen rock" brothers and sisters in Christ.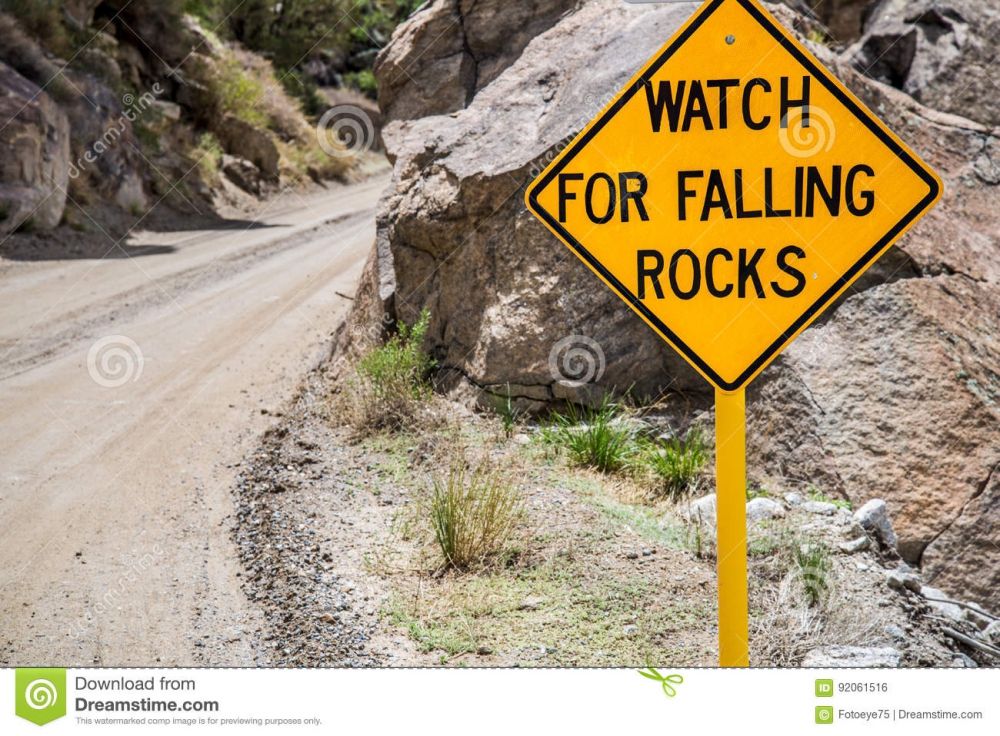 Driving along the blue line roads of Virginia surrounded by forest and rocky formations close to the roadside, I have come upon signs warning "Watch for falling rocks!" Erosion loosens rocks that were once firmly embedded and they tumble down onto the traffic lanes. Fallen rocks become a danger to others, as do we in the spiritual realm. When we fall, we drag others down with us.
One of the major factors contributing to our potential fallen state is when we have "fallen out of love" with our Lord. In Revelation 2:4 Jesus tells His own beloved ones, "Nevertheless, I have this against you, that you have left your first love."
If we have become "fallen rocks," it doesn't need to be permanent. God promises to uphold us in our weakness and pick us up when we fall. (Psalm 37:24) "Though he fall, he shall not be utterly cast down; For the Lord upholds him with His hand." "The Lord upholds all who fall, and raises up all who are bowed down" (Psalm 145:14). "Now unto Him who is able to keep you from falling and to stand in the presence of His glory...." (Jude 24)
In this current isolation crisis there are surely many lonely fallen rocks whom we could reach out to with encouragement and help as needed. Let's cement them back together with us in the Body of Christ by our love and practical compassion.