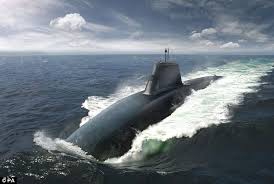 No matter how high or how tumultuous the churning waves on the surface of the agitated ocean in a storm, a submarine can navigate down into the depths to the still, quiet waters unaffected by the violence raging above.
To bring in control the spread of the deadly virus which is threatening us, we are mandated to hunker down, self-quarantine, come apart, distance ourselves socially from others—drop out of sight "'till the storm passes by."
Jesus is our "ever present help in time of trouble" to submerse us to that deep, quiet place—in "the secret place of the Most High." There "under the shadow of The Almighty," we find perfect rest near the heart of God. There is a time to confront and engage the enemy face to face, and a time to shelter away in His depths to His refuge. (Psalm 27:5)
This pursuit of peace during turbulence is primarily a personal one. We can encourage each other toward living in that perfect peace, but ultimately it is an individual decision. We can choose whether to live a submarine life during such crises or remain tossed about emotionally and mentally distraught at the mercy of the constant barrage of media hype.
In the present virus pandemic it seems as if dozens of wild alarms are currently going off at a high decibel level all over the world. We are drawn into the grip of fear. Our nerves are on edge. We are experiencing cataclysmic changes to our accustomed daily way of life. We are afraid for our very survival and the lives of our loved ones. God's word to us is reassuring, "Be not afraid."
There will always be situations in life that disturb my status quo and jerk me out of my comfort zone. Jesus stated that in the world we will have tribulation. We are not promised smooth sailing. Peace doesn't mean the absence of storms or adversities or setbacks. Jesus declared that He came expressly to give us His peace, to leave it with us to take as we need it." Jesus was sound asleep in the midst of a raging storm on the sea so violent that the panicked disciples feared for their lives. It may seem as if God is oblivious of our present dilemma because we don't see Him doing anything about it. Nevertheless, He is still in charge and has never forsaken us. He is working out His overall eternal plan for mankind. He will take us through whatever He has been allowing to happen in His perfect will.
The devil is good at breaking and entering our hearts with frightful events, trying to breach our security in Christ and knock us off kilter. He uses "wild alarms" like the present crisis to fill our hearts with fear, steal our peace, and shake our trust in God. Jesus promised that "no one can snatch us out of the Father's hand." He has no authority over us—only we can remove ourselves from God's protection and shelter by giving in to the devil's wiles.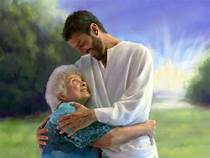 I am God's child, no matter what my age. Have I forgotten to anchor myself in the promise of Psalm 91 during this invisible enemy attack with a lethal virus? The Holy Spirit seems to be currently drawing all of God's children to the relevance of this Psalm. The following fresh rendering from The Message Version (MSG) may help us go deeper in our submarine life.
You who sit down in the High God's presence,
spend the night in Shaddai's shadow,
Say this: "God, you're my refuge.
I trust in you and I'm safe!"
That's right—he rescues you from hidden traps,
shields you from deadly hazards.
His huge outstretched arms protect you—
under them you're perfectly safe;
his arms fend off all harm.
Fear nothing—not wild wolves in the night,
not flying arrows in the day,
Not disease that prowls through the darkness,
not disaster that erupts at high noon.
Even though others succumb all around,
drop like flies right and left,
no harm will even graze you.
You'll stand untouched, watch it all from a distance, (social distancing)
watch the wicked turn into corpses.
Yes, because God's your refuge,
the High God your very own home,
Evil can't get close to you,
harm can't get through the door.
He ordered his angels
to guard you wherever you go.
If you stumble, they'll catch you;
their job is to keep you from falling.
You'll walk unharmed among lions and snakes,
and kick young lions and serpents from the path.
"If you'll hold on to me for dear life," says God,
"I'll get you out of any trouble.
I'll give you the best of care
if you'll only get to know and trust me.
Call me and I'll answer, be at your side in bad times;
I'll rescue you, then throw you a party.
I'll give you a long life,
Give you a long drink of salvation!"