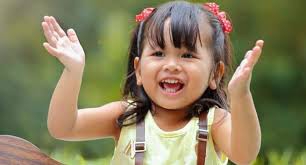 I told you that I give God a "CLAP OFFERING" every morning when I get up.
I promised you the backstory after I did some research. Here it is.
Let's anchor our clapping exploration on various translations of Psalm 47:1
"O [come on and] [clap your hands [make joy with your hands], [applause, everyone], [show your happiness], [go ahead and celebrate]; shout unto God, [shout triumphant praises], [shout God-songs at the top of your lung!], [loud cheers], [heartily with a joyful voice], [with raucous sounds of joy], [sing your best songs to God].
This is worth a "Selah"-- a musician's notation that appears in this Psalm (did you notice it?) and in certain other psalms. Whether this mysterious word meant that the singer or reader was to quietly meditate on each detail, stop and pause to think about this, was meant as an exclamation point, or instructions for the musicians to crescendo, or take a breath, worship, or put this into action is uncertain from the original Hebrew. So let's do all the above.
At any rate, this is obviously acceptable to the Lord to clap in appreciation and praise to Him. I honestly had no idea of the wonders of the human hand and never had occasion to dig into the claims of the benefits of putting two hands together with an audible smack. But as I dug into the gold mine of what clapping is all about, I was overwhelmed with how much God has blessed us in this simple gesture to benefit us from infancy and toddler-hood throughout life to seasoned tottering persons my age.
Our human hand is a marvel of our Creator's Divine genius—and He gave each of us two of them for a reason! The hand is so complex that every organ in our body is linked to it. Our palms have blood vessels and nerve endings that if stimulated or massaged, directly affect many parts of our anatomy specifically to relieve pain. Clapping has been proven to stimulate the very same points as acupuncture. Our body has 340 known pressure points, 28 of which are in our hand.
I discovered a video which demonstrated stunning benefits from clapping therapy as an easy and effective self-healing practice. It is said that clapping every day for even a few minutes provides numerous health benefits. The following are just a few from many: Supports mental wellness. The easiest way to de-stress your mind and control anxiety. Positive signals are sent to your mind countering depression. Clapping helps regulate blood pressure levels and increase blood circulation plus helping breathing problems and asthma. It boosts immunity by increasing the production of white cells, thus eliminating risk of seasonal infections.
It increases cognitive powers, motor skills and academic performance in children from "patty-cake" time in infancy. It continues benefits through all seasons of life to sharpen our minds, enhance memory and improve concentration.
CLAPPING THERAPY improves bone health by reducing the severity of pain in back, neck and joints—even relieves gout. There are residual benefits for patients with arthritis, hypertension, diabetes, insomnia, headaches, common colds, digestive disorders, eye problems and more. The position of the hands is not the same as for appreciation clapping. Apply mustard oil or coconut oil on palms which would be absorbed by the body. Keep your palms straight, pointed upward and strike them against each other right to left in a way that palm and fingertips should all touch each other. The left hand should be held immovable, the right hand moves toward the steady one. Maximum benefit if done in the morning.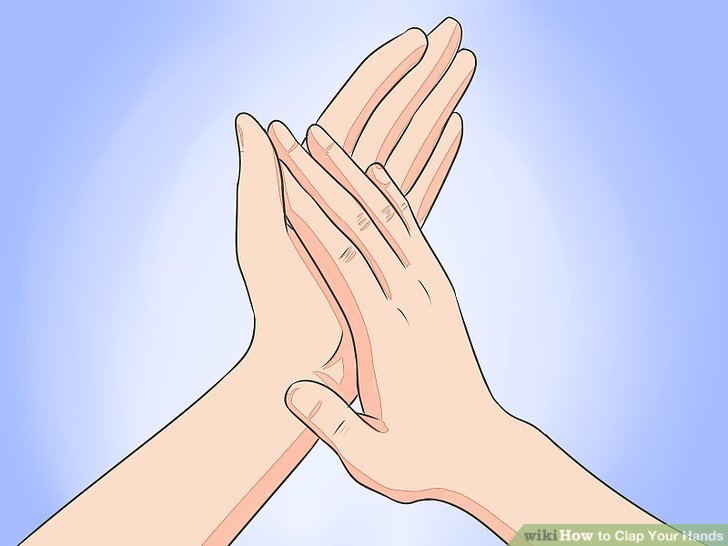 (Above) BASIC CLAP POSITION: With open hands strike palms against each other with receiving palm pointed upward and opposite hand striking with 4 fingers. Hard enough to produce sound but not to hurt oneself or turn hand red. The royalty clap: used by the Queen, only two fingers against the open palm. Little noise but polite gesture. Sports clap without hands: Stomping your feet, lots of noise deliberately. Clapping silently: Called "sparkling." At no noise occasions lift hands and wiggle your fingers. Clapping with one hand: Extend palm outward, fingers spread wide, snap them closed quickly and repeatedly. Clapping against a surface: If you're holding something with only one hand free, clap against a hard surface or against your thigh to make a noise but don't hurt yourself.
If you already have some mental and voice cobwebs or maturity blocks, brush up on your childhood fun as below. Be creative and compose your own words as suits your occasion. Google search children's songs for more ideas.

Try substituting in the beginning, "If Jesus is your joy clap your hands" or the like, and end with the last phrase, "shout AMEN!" If you don't sing, just clap the rhythm to this and other songs you know. Keep the variety and spice in your clapping.
I'll bet you know more about clapping now than you ever imagined. How many of you who read this will join me to incorporate "Holy Applause" unto the Lord somewhere in your days to praise and appreciate the Lord? And for the "and these too shall be added unto you" health perks of clapping? I challenge you. Please let me know….
At least try clapping with your little kiddos or the grand-kids for fun. You might be encouraging some potential geniuses.
For those of us working our way toward longevity, let's keep sharp and in good shape by clapping.