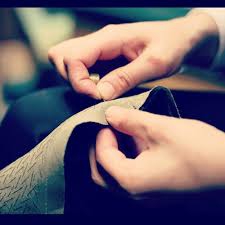 According to an ancient Chinese proverb, "An invisible thread connects those who are destined to meet, regardless of time, place or circumstance." For the Christian, the Holy Spirit's networking is part of the outworking of the promise in Romans 8:28. "And we know that God causes all things to work together...."
I am constantly amazed that some of my closest, heart-friends are people whom I have never met, who live across the country or even across the world. (You know who you are!) I don't even know what some of you look like, but we have become invisibly and indivisibly bonded; I have come to recognize your unique spirits, and you know the essence of me. The Spirit has sewn us together.
Like a weaving which we see only from the tangled underside, God plans the unique design from above and links up the people who are needed to make it beautiful and carry out His purposes. We look forward to seeing the whole tapestry when we finish our life journey and all things are made clear In God's presence. We will see what God was up to in making all of these miraculous connections between His children in His Body.
He has connected us through some incredibly different ways: at a crisis moment in someone's life they were given one of my books; others found me through Google search, or another friend-unmet introduced me to their friend who got in touch with me. Or someone came across my website or my TV interview and reached out to me. At just the time I needed their specific counsel, assistance or encouragement, God linked us into each other's life-orbits. Like a needle with various colored threads, we sew into each other's life-tapestry a richness we could not have achieved alone. Each of us is enriched through these precious interconnected relationships all over the map.
The Holy Spirit brings some people into my life only briefly but always for some eternal Kingdom purpose. That purpose might be different for both of us. I am part of all who have come into my life. Some people come into my life for longer periods, even for a lifetime. God doesn't intend for some to stay after their purpose for coming is fulfilled. I must be willing to let them go for their sake and mine.
Those who know me, are aware of my lifelong habit to ask the Lord each morning to bring into my life this day everyone and everything that is in His perfect will—whether by phone call, email, a passing thought, a personal contact, a whisper in my spirit to pray, through an unplanned meeting, scheduled appointment, a letter, or as part of my routine responsibilities. Counting every encounter as all joy, I anticipate doing His will on earth today as it is done in Heaven through these serendipitous invisible connections.
When I wake up in the morning, I am motivated to put my feet on the floor and get on with my daily adventure with God, Sometimes His blessings and favor are visible and tangible but sometimes invisible and spiritual. I can accept His surprises, even if disguised as negative events, because they are God-woven with His invisible golden threads. If unexpected and frustrating things happen and my own plans and schedule are disrupted, I can still be at peace that God's divine thread is sewing into my life the better plan for His sovereign purposes.