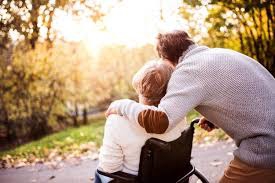 I've just finished talking with MYFRIEND by phone. She lives in another state. I called her with my cell phone and she answered by lifting her cumbersome large phone with the big numbers to her shoulder with both floppy wrists and propping it up with her head to the side. Then she sang all the words to one of her favorite hymns—right on pitch, her voice still steady and strong. But if we were on Skype, I would see the rest of her ninety-some-year-old "earth suit" body lying helpless on a hospital bed.
MYFRIEND has been in Hospice care for a month in the final stages of IBM. Inclusion Body Myositis is a rare inflammatory and degenerative muscle disease of unknown origin, thought to be a form of autoimmune disorder. Commonly starting in later calendar years with a tendency to fall or trip, it progresses to painless weakening of hands, wrists and fingers and gradually the wasting of muscles in forearms and legs.
We laughed together as she described what an extended "platform" of influence God is giving her since she let go of "things of this world" by having to move out of the home where she and her late medical doctor husband lived for fifty years while raising their family.
"My family asked me what I wanted to do with my accumulation of years of heritage collections, library, antique furniture—all the 'stuff'—and it is so freeing to just let it go! I'm leaving my earthly home to go to my Eternal Home where Jesus said He is preparing 'A Place'. I trust that includes everything I'll need there."
MYFRIEND described meal times when she is wheel-chaired to the dining room. "I have refused a feeding tube. As long as I can, I'll try to feed myself by wedging a fork between two fingers and trying to get food safely from my plate to my mouth. My cheerful aid-helper feeds me and cleans up when I fail—like this morning when I tipped over my cereal," she chuckles. "In the final stages of IBM I know that swallowing will become impossible. I am likely to choke to death."
I asked MYFRIEND how she manages at night. "I've had to learn the lesson of being thankful to accept help. Since I'm completely dependent, the night nursing girls have to come often to my room to attend to my needs. There's quite a turnover staff so I have quiet, private opportunities for close bonding chats with different ones. They share their problems with me. They are like my granddaughters. They are willing when I ask if I might pray for them. Day by day I encounter new medical people and caretakers and housekeeping staff. Such beautiful chances to be bold in my gentle witness for the Lord! After all, this is my last opportunity to introduce Him to anyone He sends to me."
MYFRIEND doesn't hesitate to lay her gnarled, limp hand on her visitors to impart a blessing to them like the dying patriarch in the Bible record. Her Bible lies always open. Since she can't close her fingers anymore, she can't turn the pages well—her chance to ask her visitors to find a passage for her and they read and talk about it together.
She can't wave goodbye in a normal gesture either. So she has developed a side-wise wave that her grandchildren have picked up on, somewhat like one that Queen Elizabeth practices.
"So much of my body is paralyzed and unresponsive to my wishes, but the Lord has blessed me with a clear mind and a spirit that is responsive to the possibilities He is opening for me here to serve Him. My vocal chords are still unaffected and I can praise and thank Him for what I have left. I can still talk and sing. I use both to witness for Jesus. Careful not to disturb others, if I am alone in my room I sing to the Lord every precious hymn I can remember. Sometimes my door is inadvertently left ajar. I didn't realize I could be heard down the hall until other residents thanked me for lifting their spirits."
"The day may come soon when my voice too will be affected. Then I will "sing with the spirit" silent words and melodies I have learned by heart. My voice crackles now but my spirit voice will be right on pitch. I will have an audience of One—the important One to Whom I direct my praise will hear me."
After Mary anointed Jesus' feet with precious, costly fragrant perfume, He said that what she did would be remembered everywhere and forever. MYFRIEND is a beloved "person of influence" right where He has planted her for however short a time. She is living out Colossians 3:16, letting God's Word dwell in her richly rather than complaining about diminishing opportunities and her earth-life coming to a close. It is not insignificant that her final place of residence is called "Sunrise" not "Sunset."
May this brief tribute of love and respect for MYFRIEND which I am posting on my blog extend her "platform" still further to you. I share it for our encouragement and example with my many friends who read this website. May we all learn to "Come before His presence with singing" during the rest of our journey Home, no matter what our lot in life. (Psalm 100)