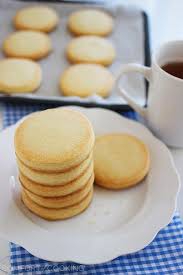 "Shortnin' Bread" is a plantation song first popularized by poet James Whitcomb Riley in 1900. He wrote the lyrics in an attempt to imitate (not belittle) African-American dialect:
Fotch dat dough fum the kitchin-shed
Rake de coals out hot an' red
Putt on de oven an' putt on de led
Mammy's gwiner cook som short'nin' bread
The traditional chorus associated with the folk song goes:
Mammy's little baby loves short'nin', short'nin'
Mammy's little baby loves short'nin' bread
You can go online to download the song which has been recorded by many artists including the Beach Boys. Be forewarned: you won't be able to get the tune off your mind and will find yourself making up your own words in sync with your daily life.
"Shortening bread" refers to a bread made of corn meal and/or flour and lard for shortening. It should not be confused with "shortbread," so named because of its crumbly texture (from an old meaning of the word short). Its ingredients are flour, butter or lard and white sugar. Nor should it be confused with "shortcake," as in "strawberry shortcake."
Actually, I'm not trying to enlighten you about folk recipes or plantation songs. Here's the bottom line first:
I'm picking up on the idea of "short" and "bread" to recommend something that can apply to you every night. Be careful of the last thing you set your mind on before you fall asleep. If you will intentionally go to sleep with some "shortbread," with a tasty "short" piece of "Bread" (the Written Word of God) in your mind, you will be supplied with spiritual nourishment all night long!
During the bombing of London in World War II, many young children were temporarily sent off to the English countryside to live in safety with rural families until the danger of aerial attacks on the cities would pass. They had experienced "the terror by night" of Psalm 91:5.
Everyone was living in austerity and food supply was rationed. The children were fretful, nervous, and distraught by being separated from their parents and families. Their sleep was filled with nightmares. Although they were provided with good food during daylight hours, at night they seemed afraid that there might not be anything for them to eat in the morning.
Their surrogate caring families finally found a loving way to calm their fears. Although they had eaten dinner, and their tummies were full, at bedtime their hosts gave each child a substantial hunk of bread to hold in his hands through the night. Thus the young anxious ones were assured that they would have something in the morning. If they awakened during the night, being able to touch and taste and smell the bread gave them comfort. It was a "pacifier" to bring them peace through the dark night.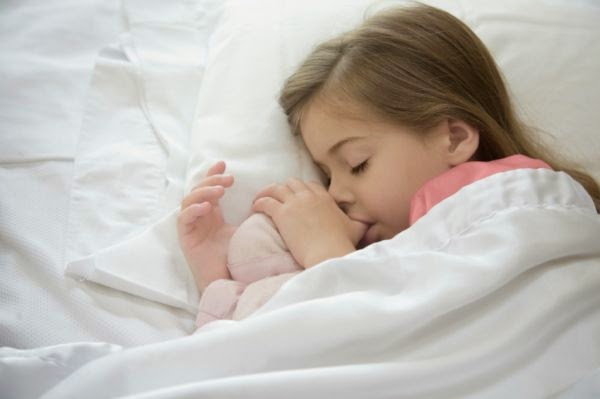 Our minds anchor into whatever we think about, read, see, eat or worry about just before we slip into the healthful REM stage of sleep. Whatever recording we put into our brains will keep playing itself in our sub-consciousness any time we become awake, even momentarily.
I tried to build on that analogy in my life. Upon going to bed, I deliberately find a piece of spiritual Bread to hold in my heart and mind to "eat" during the night, if I awaken. I find comfort and assurance that I am safe and satisfied with the provision of our Heavenly Father. It becomes my "spiritual pacifier."
That "shortbread," (piece of Bread) might be a Bible verse which I select from my nightly Scripture readings. Or even a word or phrase that has some spiritual impact for me. Or a phrase from a hymn or a few words from the Lord's prayer. Something to sink my spiritual teeth in, to chew on by repeating over and over with my lips or in my mind in silent contemplation. A bedtime snack, as it were. A different, nutritious portion every night.
David the Psalmist-King repeatedly wrote how all through the night he meditated on his bed about God and His goodness. "I will bless the Lord who has counseled me, indeed, my mind instructs me in the night, I have set the Lord continually before me...my flesh also will dwell securely" (Psalm 16:7-9).
What I think about just prior to drifting off to sleep is incredibly critical. It becomes part of my subconscious and even affects my dreams. I admit that unfortunately my lifelong habit has been to read myself toward drowsiness, sometimes with light fiction so as not to tax my brain too heavily and prevent the onset of deep, quality sleep. Too often I've read far into the night, even beyond midnight, enticed by a dramatic novel. I've tried to break that habit and make my last thoughts before bedtime the kind that focus on God and His words.
As Jesus taught us to pray, "Give us this day our daily bread," we can ask our Heavenly Father to guide us in choosing just the right piece of nightly "shortbread" before bedtime to sustain us. With my mind anchored upon Him and His Word, such nourishment truly becomes "Wonder Bread." Are you willing to try it tonight?