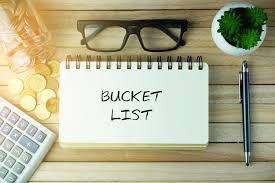 Would you believe, in my 95th year I'm still peeking at what remains on my "bucket list?" No better time than at the beginning of a new year and a new decade. Especially when earth-time is realistically running out for many of us. Will you join me as you go over your bucket list?
When we were children, our little toy pails were full of childish wishes. In youth, with stars in our eyes, our bucket held dreams. As adults, it was full of goals and hopes and plans. In our prime of life, the bucket began to hold some concrete achievements.
Now in our summit years, we should take a serious look at what's left. A bucket list is a private record of goals to achieve or roles in life, or places we would like to go, or things we would like to do. Is our bucket empty because we've been there and done all that's available to do and be? Or have we given up on some things that were unrealistic? Is there time left to press on?
We should ask, "Who put those items on our bucket list? Did we? Or were they the expectations of others?" As Christians, we should ask at any season of our lives, "Have I consulted God for the contents of my life bucket? Or am I simply on an ego trip? Are there things that should not even have been on my bucket list? Have I omitted some important things?"
God isn't about the business of raining on our parade or taking all the fun out of life. The Scripture declares, "God has given us richly all things to enjoy." God created the world and everything in it for man and called it "Good." In the Psalms we read, "Delight yourself in the Lord and He will give you the desires of your heart." My desires, however, must be in sync with the will of God.
Faithful to His promise, the Lord has given me a long lifetime granting the desires of my heart. God's storehouse of goodness and mercies has overflowed. My cup is running over. Among His many blessings, I have traveled the world serving Him, trying to bloom wherever He planted me with gladness throughout the many decades and the ups and downs of life. I have lived to delight in my grown children, my grandchildren, and my great-grandchildren. I count His blessings to me not by the bucket—more like by a large U-Haul!
(I just want You to know that I'm grateful, Lord!) I'm sure that my readers have their own lists of God's goodness and mercies.
The nature of God is generosity, always giving us more abundance than we can ask or imagine. The question I should ask myself is not, "Have I accomplished all I want to do and be from my bucket list?" God has given me the precious gift of life; my gift to Him is what I have made of my life. I must continually pray, "Lord, I want Your will to be done in my life on earth as it is done in heaven.
If there is still anything left on my life bucket list that would please You and bring glory to Your name, give me life and breath and the ability and time to fulfill it!"