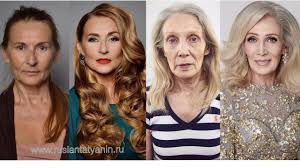 Some people pay a lot of money for a temporary makeover. I keep wanting to have a "makeover" too. Yes, imagine, even at my advanced age!
No, not the cosmetic kind, nor the fashionable dressing kind. Not even the physical appearance kind, although health does come into the picture. Primarily the kind of makeover you can't see—the inner person kind.

Is it ever too late for that? Most of us are looking for a renewal of some sort. That's what is behind all the flurry of resolutions made at New Years. We want to change from "the same old—same old" to some kind of newness. We even think we can do it by our own efforts. Is it any surprise that we can't?
I don't know about you, but more often than not, I fail in the first week of the year. God is in the makeover business so I want to take advantage of His super-special offer! It's not "for a limited time only," however. It is eternal and renewable and offered daily. I can have a makeover every day. "New every morning are His mercies."
Friends who are familiar with my blog—I hope you won't get weary of my cycling around so often to this renewal eagle verse. I keep unpacking and applying it in ever more depth year after year, day after day as I continue to need it.

Psalm 103:5 "It is [God] who satisfies your life with good things so that your youth is renewed like the eagle." I keep learning more and more from eagles. Come visit me in my home which I call "Eagle Summit," and you will find pictures and images of eagles all over the place to remind me of the possibility of daily makeovers. I couldn't live without the opportunity God gives us of daily renewal. Rejuvenation is the main point.
I keep exploring the meaning of the word renew: "to begin or take up again, resume, restore, replenish, reestablish to a former state, to make as if new again, to repair, to bring back to the original condition of freshness and vigor, make good any dilapidation, put into good or sound condition as from an injury, damage, wear and tear, decay, to mend, to restore what has faded or been lost."
YES! That's what I am asking the Lord for. From Scripture I understand that is what God promises to do for us and what He expects of us in our summit years—to be "full of sap and very green" (Psalm 92:12-15).
By the time we've lived a few scores of earth years, don't all of us feel kind of like we've experienced the paragraph above and, like the frumpy, worn out eagle in its later years in desperate need of a makeover?
However long the Lord gives me in earth years, I want to cooperate with Him for renewal in every area of my life. Not for personal vanity or pride or to flaunt my own ability or achievement. A better purpose is to try to "provoke one another to good works," as the apostle Paul instructed us—for His glory. Join me on this makeover journey starting tomorrow again in whatever way it might fit your season of life and circumstances and needs in Christ.
Let's jump-start ourselves by looking at this verse again in the paraphrased/amplified version along with the eagle verses cross referenced in Isaiah 40:30, 31:
It is "[God] who satisfies your mouth [your necessity and desire at your personal age] with good; so that your youth, renewed, is like the eagle's [strong, overcoming, soaring]! "Even youths shall faint and be weary, and the selected young men shall feebly stumble and fall exhausted; but those who wait for the Lord—who expect, look for and hope in Him—shall change and renew their strength and power; they shall lift their wings and mount up [close to God] as eagles [mount up to the sun]; they shall run and not be weary; they shall walk and not faint or become tired." What great starting-gun verses for our journey into this new year and new decade!
I find it interesting that various versions of the Bible translate that first phrase of 103:5, "...satisfies your mouth, your days, your years, your life...." that is, bring to fulfillment and consummation whatever you and I need in order to be satisfied, complete, finished and contented.
I'm trying for a makeover, a rejuvenation, a renewal in every aspect of my life even in my mid-nineties. How about you? Do you have a better excuse not to keep trying? Of course we can't achieve makeover without surrendering some of the attachments of this world to which we have become accustomed.
But it's worth it all. The possibility of change and makeover means that we are still living and breathing and can become "transformed by the renewal of our minds" into the image of Jesus Christ. Isn't that what it's all about? (Romans 12:1,2)