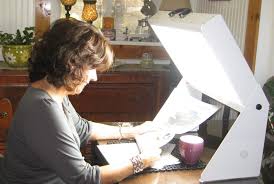 You've probably heard of spring fever, summer slump, dog days, winter blues and something with a medical name called Seasonal Affective Disorder (SAD). I lump them all under types of depression related to changes in seasons and call them SEASONAL SAG. They are the responses of our metabolism to the atmosphere and environmental conditions and often personal circumstances. Yes, also responses to transitions in the various seasons of our lives like adolescence, empty nest syndrome, loss of a loved one, becoming AARP eligible, even change of location.
Let's unpack the "sag" called SAD. We may experience some or all of the symptoms below:
Feeling depressed for known or unknown reasons
Losing interest or pleasure in activities once enjoyed
Having low energy and lacking motivation
Problems with sleeping –too little or too much
Changes in appetite or weight
Feeling sluggish or agitated
Difficulty concentrating
Feeling hopeless, worthless or without purpose
Having thoughts of death or suicide
Don't brush off that feeling as simply a seasonal quirk that you have to tough out on your own. We can take steps to keep our mood and motivation steady. How? If lack of sunlight causes or contributes to Seasonal Affective Disorder, then getting more light may help reverse it.
Treatment may include light therapy (phototherapy)--direct exposure to sunshine or specialized artificial light. Bright light works by stimulating cells in the retina that connect to the hypothalamus, a part of the brain that helps control circadian rhythms. Activating the hypothalamus at a certain time every day can restore a normal circadian rhythm and thus expel seasonal symptoms.
Light therapy entails sitting near a special "light box"(one of which is pictured above) for prolonged periods as close to waking up as possible. These boxes provide 10,000 lux ("lux" is a measure of light intensity). That's about 100 times brighter than usual indoor lighting; a bright sunny day is 50,000 lux or more. Keep your eyes open, but don't look at the light. Let the light penetrate you.
However, in a spiritual or supernatural analogy, as a child of God I don't need to buy some expensive light source contraption to plug in to receive my"light fix." I can be intentional to consistently, faithfully, daily "walk in the Light" of Jesus whatever I am doing. He is the Ultimate Light of the world dispelling all darkness and lighting us in turn by His indwelling presence. (John 1:4, 5, 9.) I can "walk in The Light" of God's presence with the Written Word of God as the Lamp (Psalm 119:105) to shed Light on my path. It is free—but not cheap. My exposure to that Light must be constant, steadfast, changeless "in season and out of season." No matter what my outward circumstances or inward feelings. Jesus Christ is the God-man, our Savior and Lord for all seasons. By His indwelling Light, I in turn become a light to the place in my world where God has planted me. (Luke 16:8)
I can't do anything about the reduced level of sunlight in winter or shortened daytime hours and seemingly longer nights. Or whether the atmosphere is foggy, overcast or I sense the approach of snow. Seasonal sag can overtake us while we pack away the Christmas decorations for another year. Or when families bundle up the grandkids and drive away. Or if we've been alone through the holidays. Or while looking in the mirror with the guilt of pounds gained during the jolly culinary festivities. Or while thinking about the unavoidable changes ahead in the coming year—the march of inevitable time.
Seasonal sag is contagious. Symptoms come on quickly after a pity party with like-minded whiners and moaners. Yet one can succumb to it even more readily in isolation. What I can control is my intention to spend time exposing myself to SON LIGHT. "This is the message we have heard from Him and announce to you, that God is LIGHT and in Him is no darkness at all...walk in the LIGHT as He Himself is in the LIGHT...." (1 John 1:5-7)