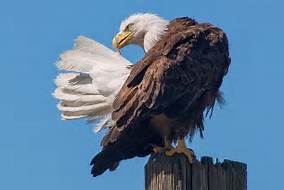 My recent major surgery this late in life was, in one sense, elective. Realistically, if I had not been willing to risk the possible complications of the removal of a large, still growing abdominal mass, it would likely have resulted in "closing shop"--the end of the lifelong ministry to which God called me. I opted to continue making myself available to serve God by enduring the uncertainties of surgery and the extended recovery period.
The "joy that was set before me" was the opportunity to keep serving the Lord in a renewed way, if that were His will, without concern for the accumulation of calendar years with their accompanying limitations and weakness. The rejuvenation of a "senior eagle" analogy (Psalm 103:5) is my goal for 2020.
Like the tired, old eagle, plucking off its bedraggled, worn out feathers, I must "put off" (detach myself from) certain hindrances or weights which so easily drag me down and hold me back. Pruning a fruit-bearing plant too involves pain and suffering of a sort which Jesus applied to us. He declared it was essential for more fruit-bearing. I must "put on" some new layers of positive reinforcement while there is time. Half-way through my nineties, the earth-time-tunnel narrows. I need a fresh anointing of the oil of the Holy Spirit,
My enforced recovery period since surgery has provided me with quiet reflection about changes or adjustments I can still make to my life-course for the rest of the way. Focus and priority become even more important to discern. Like using a GPS, I can recalculate, if I have wandered off course even slightly from my intended destination. It is never too late!
Literally, my skillful surgeon has excised a physical "mountain and cast it into the sea" in Jesus' terminology. That gives me immense relief, greater freedom, quality of life and a sense of well-being. Spiritually as well as practically, I have other habits, cares, anxieties and obstacles to be cast out of my life by my own intention. Time wasters. I must spend my precious time, invest it, not squander it. Aging is not an excuse for slacking fervor in God's Kingdom work or for losing our "first love" for the King of Kings, the Lover of our souls.
On the verge of a new year, I would like to retrain myself to walk and not run in the fast lane as I continue to carry out God's calling on my life with the gifts He has given. The busy, hurried pace is the debilitating one where I lose strength and dissipate my energy. An eagle doesn't flap its wings to fly like other birds. It waits to soar on air currents and seems to take off leisurely. I deliberately choose to offer God my "Restful Availability" and lean into His promise, "For I am confident of this very thing that He who began a good work in you will perfect it unto the day of Christ Jesus" (Phil. 1:6) It is God's responsibility to bring His life-purpose for and through me to completion without frenetic self-efforts on my part.
So what might 2020 look like, if I attempt to live out "Restful Availability"as my "word for the year" to set my course?
Only God knows. I can't speculate. I do anticipate God to exceed my expectations and complete my incompletions. I continue my daily, lifetime morning surrender to His Lordship to "Do all the good I can, by all the means I can, in all the ways I can, in all the places I can, at all the times I can, to all the people I can, as long as ever I can."
(John Wesley)