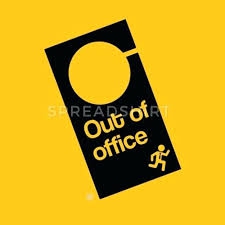 I'm only borrowing the title phrase from the Miranda rights which are read to a suspected felon. That's as far as the analogy goes. I want to apply it to what I'm going to do tomorrow. Why not today? I need time to plan to carry out my intention.
Occasionally I receive an automatic email from a friend's computer: "So-and-so is out of the office and will return on such and such a day. If this is an emergency call this number: Psalm 50:15"
Tomorrow it's going to be my turn. I'm going to be intentionally "out of my office" (my regular routine). No computering, no checking email, texting, Facebook, no television, and a no-people day. Although I'm not going anywhere, I won't answer the phone. If you have a spiritual emergency, call upon the Lord. He is available 24/7.
I'm going to take a "personal day" for quiet, refreshment, meditation in the biblical sense, restoration and recollection to gather the scattered pieces of my life. It will be midweek, nevertheless the "Lord's day." I'll make myself totally available to listen to Him, to inquire if I'm right on His life course in this season of my life. If not, I'll work on a course correction.
Cutting loose like this is not my usual behavior. My rather intense lifestyle is not because anyone pushes me or dangles deadlines over my head; I tend to drive myself, in a positive way I hope, a lifelong habit. I'm a highly motivated goal-setter with a sense of purpose and calling from God, a calling which He has not revoked, although I'm already midway through my nineties. I admit—I simply have a hard time taking time off.
I'm aware that I must deliberately schedule time to smell the roses, slow my pace and unwind. From time to time I must "declare my independence" from all usual routine, especially separate myself from the helpful tech stuff that makes work easier but captures me with its all-consuming necessity.
I look forward to snatches of time to do nothing. Even that has some intrinsic value. To shake off the busyness that distracts me from the eternal priorities of life. Simply "to be still and know that I am God" (Psalm 46:10). I present myself before the Lord to fine-tune the ears of my heart to listen to His voice in the joy of silence. Into this holy silence God can speak Spirit to spirit without the limitation of human senses.
Will you join me for a day to chill out and relax in God's silent grace? To let our overheated engines cool—to soft pedal our fortissimo and play awhile in pianissimo? To let the world just accelerate away—for a day? Let's loosen the strings of our fully-taut bow and release our built-up tension before we succumb to burnout and have to be towed away!
I'm giving you permission to purposely veer off
the busy highway of life and exit at the rest stop!