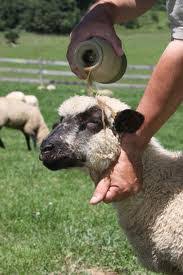 Sheep seem to be sweet and cuddly, but they are pretty stupid by nature. Jesus' analogy about Himself as the Good Shepherd and ourselves as His sheep is well-known."I am the Good Shepherd. I know My own and My own know Me. They know My voice and they follow Me."
Let's be careful about our example as Christian sheep. According to an article in USA Today, 1,500 sheep fell off a cliff to their deaths in Turkey in 2005. First, one sheep went astray and fell, so the others blindly followed and jumped. 450 sheep died.The only ones to survive were cushioned by landing on top of their fellow flock members. In Jesus' story of the shepherd seeking the one lost sheep, no wonder it was so critical to find and rescue the one before the 99 followed suit.
Why all those famous pictures of Jesus with a lamb wrapped around His neck? Because sheep tend to stray and will follow wherever they are led, shepherds often had to discipline lambs which weren't used to their particular shepherd's voice yet and would stray from their shepherd. They needed to get accustomed to the touch and smell and close personal relationship with their shepherd. The shepherd would use his rod to break the leg of a wandering lamb. Ouch! In this case, the loving end justified the means. The lamb learned during the close encounter healing process that the shepherd could be trusted to provide food, transportation and protection. The shepherd begins to smell like the sheep, and the sheep knows the scent of its shepherd. Once healed, the lamb was fiercely loyal to the loving shepherd and wouldn't stray from His leading.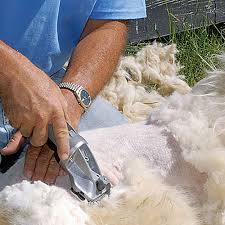 A certain Merino sheep in New Zealand became famous because it managed to avoid being captured and shorn for six years. Its wool grew so thick that its eyes were eventually hidden behind the thick coat. It dodged the shearing by hiding in caves and running from the shepherd. Finally captured and shorn, 60 pounds of wool on its body was enough to make 20 men's dress suits. We often try to hide from God, reluctant to be shorn of what we are to put off that hinders our progress in holiness. We become weighed down with the burdens God could easily remove from us.
In the Bible, God anointed certain people with oil for tasks of God's Kingdom. Shepherds anointed the heads of their sheep with oil for a different reason, not a symbolic ritual. Sheep are easy targets for flies, lice and ticks. Flies torment sheep by laying eggs in their nostrils which turn into worms. A sheep becomes the helpless victim of infestations by these pests. However, it wasn't just a nuisance. Bugs would crawl through the ear canal of the sheep and nest in its brain, eating away at it. The pain from the bugs would be so severe that the sheep would bang its skull on rocks and against trees to ease its suffering. The sheep could break its own skull seeking relief from the brain-eating parasites. The shepherd poured oil abundantly over the sheep's entire head seeping into the wool as a covering againsts these attacks.
When God offers to anoint us with His oil, He offers us a barrier of protection from the seen and unseen parasite-evils of this world that seek to eat away at us. Worrisome thoughts and anxieties invade our minds and play over and over to torment us. We want to figuratively beat ur heads against a wall to stop those unwelcome thoughts unless we accept His oil of anointing covering our minds and eyes and ears. Only by God's anointing with the Oil of the Holy Spirit will our hearts and minds (emotions and thoughts) be shielded from the dangers that lurk around us. "You will keep them in perfect peace whose mind is stayed on Me" is God's promise. Then "Our cup overflows!"
If we hide in caves, or jump off the proverbial cliffs of this world, dodging His anointing and protection, and shearing/pruning, we become vulnerable victims of this world. We may become so filled with pain that we hit our heads against rocks to ease our suffering.
God seeks to shepherd us through the painful briars of this life. Sometimes through painful discipline, shearing or anointing, but always with love and our best interests at heart. Our shepherd can be trusted when we surrender to His leading and care. It's easy to see why the Bible compares us to sheep. We often follow the crowd, even when it leads to our own demise. We stray from and deliberately hide from the shepherd who loves us and seeks to protect us. We may not appreciate God's disciplines at the moment, but if we surrender to Him, keep so close to Him that we "smell like Him,"we learn through the discipline that God can be trusted.
****
Bible verses referenced: John 10, Psalm 23:5, I Peter 1:6, Isaiah 26:3.