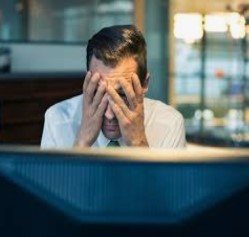 Dear valued reader of my website:
This is a somewhat different blog post. It's a chat with one of my real-life calendar-challenged email friends. I want to give you permission to "listen in" in case you might overhear something that would prove meaningful to you too. Bear in mind, I always preach to myself first with whatever I write.
Dear Sally (not her real name),
It's okay for us in our longevity years to talk to ourselves. We haven't lost our marbles. In fact, King David the Psalmist made it a habit. A quick flip through the Psalms amazes us—he keeps talking to his soul, asking it questions and giving it instructions. (I'm not looking for a debate about whether by "soul" he means his "spirit" or even whether he differentiated between them—or whether there is a theological difference. Take it as you wish. He talks to a part of himself that is not his "earth suit," his flesh.)
Sally, you confess your emotional feeling as "being in a bit of depression" and hinted at your inability to do some things you did in your younger years and your despair about it. You find yourself still saying yes to too many commitments which results in your inability to discern God's priorities for you in your longevity season of life. Well, membership is open—join the club! The Depression Club, that is. Introspection is the dues to get in. You have to learn to talk to your soul.Let's look into the short Psalm 42 and listen in on David's conversation with his soul and how his despair turned out.
In the first three verses he tells us his soul's deep desire for continued closeness with God. He pants and thirsts for a relationship with God. We can identify with that, right? But apparently he's in tears because of criticism from some naysayers who observe that God seems to have forsaken him when they see His present condition. Evidently David is not much of a godly example right now in his depression.
He's having a pity party and looking back down his own memory lane to "the good old days." "I used to..." is stuck in his memory as he recalls his public persona—he was hailed and applauded as a leader of the spiritual pack. Poor David feels like a has-been. The Amplified Paraphrase expands it quite a bit connecting it to an actual event in his life: "These things I earnestly remember, and pour myself out within me: how I went slowly before the throng and led them in procession to the house of God [like a bandmaster before his band, timing the steps to sound of music and chant of song], with the voice of shouting and praise, a throng keeping festival. (v.4)
Sally, along with David, you too have had your "I used to..." time in center stage in the spotlight actively serving the Lord. Now He is "doing a new thing," a deeper thing, in your life which you can joyfully embrace.
David followed his lament by six repetitions of "why?" He directs those "why's" to his soul; he is not asking God why. He diagnoses his own depression as despair, being sunk down, downcast, disquieted, distressed, slumped, inwardly disturbed, in other translations. That is negative emotional self-talk. He asks himself why he should feel that way. Good question. Then he shook himself sober, came to his senses and became optimistic. He replied to himself with hope.
In verse 3 he said he shed tears day and night–instead of eating? He must have felt really down. When he realized God had not forsaken him but was continuing to shower him with lovingkindness, he began to sing praise to God "day and night." (verse 8) What a contrast! He crescendoed in praise in the first three verses of Psalm 34; his soul made a turn-around.
From verse 9 to the end, David recapped his experience, repeating word for word his soul-talk so he wouldn't forget the lesson he'd just been through. Now he has an answer to those who taunted him, "Where is your God?" He comes out boldly to declare his hope in God and the help of His presence!
Okay, dear Sally, yes, there are things we may not be able to do anymore now that God is so generous to let us navigate longevity. After all, it is His call that we are still here on Planet Earth for some purpose of His. We should engage in self-talk to our soul (the emotional and mental part of our being) to reprove ourselves for being "in despair." Let's ask the Lord for wisdom and discernment to differentiate what He wants us to still do and what He wants us to relegate to the "I used to..." been there—done that. God will be faithful to let us know whether to continue to pursue His earlier goals for us or to accept that He wants us to adjust to His new expectations for us in our latter season.
God is not a hard taskmaster; He is a loving Father and Shepherd who has a tender spot for His faithful "ewes" who still "pant and thirst" for Him. In these blessed longevity years, He may be more pleased when we choose to be still in His presence by "quiet waters" and spend time with Him in "green pastures" rather than in busy service. Let's ask our Good Shepherd whether He wants us to let go of some of the "I used to..." activities and chill out in His presence.
Perhaps even "sing in the night" when sleeplessness is our portion. "BE STILL, MY SOUL" might be a good self-talk hymn to start out with.