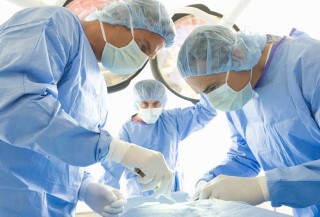 Recently, I've been learning firsthand about advanced innovative technologies in the medical field, especially when they potentially involve my own body. We used to say "go under the knife" when headed for surgery. Now doctors casually mention strange multi-syllable medically-specific words like "-oscopies" and "procedures." The word "laser" is connected with many of these terms—less invasive but mega-powerful.
What is a laser? "A device that emits light through a process of optical amplification based on the stimulated emission of electromagnetic radiation." Huh? That doesn't help much? Try this:
"A laser beam of light can be focused on a "tight spot" or target and stay precisely centered on it even over great distances. At impact, the effect can be immediate—as short as a microsecond—to achieve the desired result. Although invisible, a laser's high energy is tremendously powerful. When used on the human body, however, it can be delicately gentle."
In military use, precision laser guidance is used to propel a missile or other projectile to a target by means of a laser beam which must be kept unwaveringly pointed at the target. In medical and surgical use, the precision laser beam likewise targets a physical disorder with high intensity energy to alleviate the problem. The term "laser-knife" is even used, although there is no cutting.
I immediately see an analogy to prayer. Try reading the above scientific terminology substituting "prayer" for "laser":
"PRAYER is God's laser to affect a target person or situation through amplification of God's supernatural Power and Light focused precisely and unwaveringly on them. Like a laser, prayer is effective over endless distances and delivers its power either immediately in a microsecond or over a period of time. Although invisible, its Mighty Energy derived from the Divine is as gentle as a dove."
PRAYER is God's laser effective in spiritual warfare against principalities and powers and against all forces of darkness through the delivery of the Omnipotent beam of Jesus' Light directed to an individual in need or the disordered situation. (Ephesians 6:12) Deliverance or provision or wisdom or healing—whatever the occasion requres—takes place through the mega-power of the Holy Spirit.
If we don't know the exact need of the target person or situation, precision laser guidance is provided through the promise of Romans 8: 26-28. This is supplemented by the generous guarantee of unlimited wisdom offered to us in James 1:5-8.
PRAYER is God's laser to be used without fainting or faltering and subject to the timing of Almighty God and His perfect will for all concerned—for the target person or the "tight spot" situation. Prayer should be offered with thanksgiving even before the answer becomes reality.
Whenever I need prayer help, I send an S.O.S. to certain praying friends whom I call my "Praying Eagles." Many of my prayer partners don't know one another and live scattered across the country and the world. I may not even have met some of them personally, but we love each other in the spirit and are bonded in Jesus Christ. I'm counting on them for laser prayer.
When my prayer partners need prayer help, they feel free to call on me. We lift each other up, if we are down. Likewise, when one of us is up and rejoicing in some blessing or grace or answered prayer, we celebrate together. The apostle Paul encouraged us to "bear one another's burdens and so fulfill the law [of love] of Christ." Our prayer fellowship extends "across the aisle" of anyone's particular Christian faith persuasion. If we are one in Christ, we are part of God's family.
God never becomes tired of our asking Him for help. He hears and answers every prayer. Is God more likely to answer prayer if we gather a whole list of people to pray for a need? That's not the way it works. Prayer shouldn't deteriorate into a "class action suit" whereby we try to arm-wrestle God to answer because of our sheer numbers. Even praying solo is not a handicap. God hears His precious child when he or she prays alone or as part of His gathered family.
We are invited to ask boldly and specifically when we pray, but let's not be so presumptive as to demand a particular answer. He is God and we are not. In laser prayer we pinpoint-focus on the person or situation and ask that His will be done whether in a microsecond or gradually over time. Only He sees the big picture.
His answer to our prayers is always certain and laser perfect.