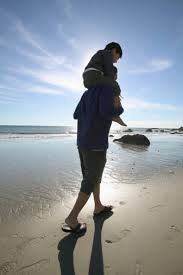 As beautiful and sentimental as is the artist's rendering of the painting FOOTSTEPS IN THE SAND, with a weary child being picked up, implying that Jesus will carry us when we can no longer walk, I suggest it might not be entirely biblically accurate.
(A Dialogue with God)
Huffing and puffing, I approached "The COMPLAINT DEPARTMENT" of the Court of Heaven. I handed an appointment card to Receptionist Angel to let him know I am here for an audience with THE KING.
It read, "Evening and morning and at noon, I will complain and murmur, and He will hear my voice." So I figured that whenever I showed up, I would be right on time to come boldly before the Throne of Grace.
Recep Angel stamped it with the current date and time, reminded me that our conversation would be eternally recorded, then motioned me into His Presence. The transcription of our encounter is below. Our Father who art in Heaven replies to me in boldface font, and CAPITAL LETTERS—of course!
********
"Your Eternal Majesty, thank You for receiving me. I've heard that You will carry people when things get rough. I think I qualify for Your transport system—I've had about enough! Please pick me up! I'm weary to the bone, my feet are dragging, they are calloused and bunioned, and I need orthotics in my shoes. I'm lagging behind, no longer able to keep pace in the fast track of life's hectic race. I have a feeling that there's trouble brewing on the aging path ahead, which I honestly dread."
THAT SOUNDS SO DRAMATIC, MY CHILD! BUT PLEASE CALL ME "FATHER."
"Well, Father, I've been a long time on Your Way. I have an aching spine and I'm in decline, my prime is past, my age advanced, my body bent, my strength is spent, my spirit wanes, my shoulder complains. I need trifocals and hearing aids to boot. And there's my bum knee and painful hip. I'm in the days of yellow leaf and around me I see only grief!"
ANY MORE COMPLAINTS?
"I live in earth's time zone, Father, and I'm no longer strong and fit. I'm experiencing depreciation without any tax benefit."
THAT'S QUITE AN ORGAN RECITAL, CHILD!
"There's more! I feel distressed, sometimes depressed 'cause life has lost its kick. My neck has a crick, my body parts are shabby and worn. They've been working full time since the day I was born."
OH MY! HOW OLD DID YOU SAY YOU ARE?
"You already know, Lord. You know all things. I figure I'm well along toward maturity and already reached longevity, but I'm trying to circumvent senility. I feel I'm no longer useful to You as in days gone by when in my prime. Father, indeed, I think that I am going to seed!"
ALRIGHT, CHILD, I'VE HEARD ENOUGH. IN MY ETERNAL SIGHT YOU ARE TRULY STILL MY CHILD, BUT YOU SEEM TO HAVE LOST THAT PERSPECTIVE. YOU ARE PREOCCUPIED WITH A CALENDAR DATE AND COUNTING TIME BY YEARS. I AM THAT GREAT I AM AND THERE IS NO TIME IN ME, ONLY ENDLESS ETERNITY. I AM THE SAME YESTERDAY, TODAY, AND FOREVER.
"Yes. that's what You are, Father, but I'm just Your mortal creation."
IF YOU ARE IN ME AND I AM IN YOU, YOU ARE MY "FOREVER-CHILD" AND YOU ARE TIMELESS AND AGELESS TOO. SO IN CHILDHOOD'S SIMPLICITY, ROLL YOUR INFIRMITIES ON ME. LEAN ON MY EVERLASTING ARMS AND WALK IN FULL DEPENDENCY.
"How can I do that, Father?"
IN MY PERFECT PLAN FOR MAN (AND WOMAN TOO) ALTHOUGH YOUR TEMPORARY OUTER-MAN DECLINES AND WASTES AWAY, YOUR FOREVER-SPIRIT INNER-MAN RENEWS ITSELF EACH PASSING DAY. YOUR ETERNAL-SELF DOES NOT DIMINISH OR FADE AWAY TO A WITHERING FINISH. YOU ARE STILL THE APPLE OF MY EYE! I WANT YOU TO FLOURISH AND GROW LIKE THE PALM AND THE CEDAR, FULL OF SAP AND VERY GREEN.
"Do You still expect all that from me when I'm over the hill?
I STILL ANTICIPATE GOOD FRUIT FROM YOU. A RIPER, SWEETER, YIELD EVEN MORE THAN BEFORE AS YOUR ROOTS SINK DEEPER AND RELENTLESSLY PURSUE MY RIVERS OF LIVING WATER. YOU WILL SPROUT YOUNG SHOOTS AFRESH AND NEW.
"But Father, I'm winding down toward sunset, and darkness is scary to me."
THESE ARE NOT YOUR SUNSET YEARS BEYOND WHICH DARKNESS LIES. YOU JOURNEY NOW TOWARD SUNRISE FOR I AM ETERNAL LIGHT. YOUR SPIRITUAL EYES WON'T DIM. BEHOLDING ME WITH INWARD SIGHT YOU'LL STEP WITHOUT A LAPSE INTO THE GLORY OF ETERNITY IN WHICH YOU ALREADY WALK TODAY, "FOREVER-CHILD," WITH ME.
"Then are You saying, Father, that You won't pick me up and carry me?"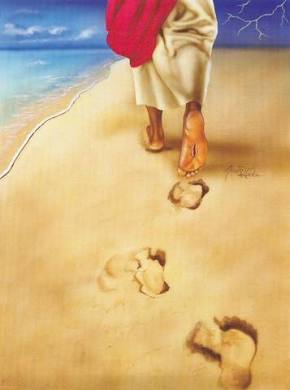 I DON'T NEED TO PICK YOU UP, CHILD, BECAUSE I'VE NEVER PUT YOU DOWN! FROM WOMB TO GLORY'S GATE, I THE LORD HAVE CARRIED YOU—THROUGH YOUTH AND PRIME TO GRAYING YEARS, UNTIL THE END OF TIME. IN DISAPPOINTMENTS, TRIALS, AND FEARS, THROUGH ALL YOUR JOYS AND TEARS—I'LL NEVER PUT YOU DOWN!
"Abba, Father, let it be—work out Your Eternal Life in me!"
****
From THE RESOURCE BOOK
Isaiah 46:3,4 "...You who have been borne by Me from birth, and have been carried from the womb,
even to your old age, I shall be the same, and even to your graying years I shall bear you! I have done it,
and I shall carry you,
and I shall bear you, and I shall deliver you."
Psalm 28:9b "[I will] be their shepherd also and carry them forever."
Isaiah 40:11 "Like a shepherd He will tend His flock; in His arm He will gather the lambs,
and carry them in His bosom;
He will gently lead the nursing ewes."
Also Psalm 55:22; Psalm 71; Psalm 92:12-17; 1 Cor. 4:16,18;
Hebrews 13:8; Deut.1:31; Job 14:7-9