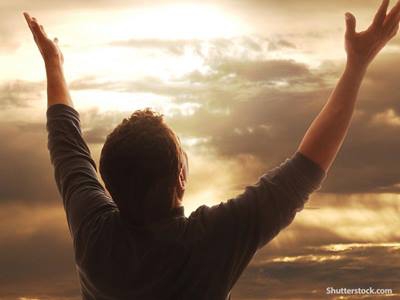 Wait! That's not what our mothers used to say. They said, "Don't talk with your mouth full." As a matter of fact, all of us do speak with our mouths full—of something—either good or bad, positive or negative. It depends on what's in our hearts. "Out of the abundance of our heart, our mouth speaks."
Who hears us when we talk? People hear us; God hears us. He holds us responsible for what comes out of our mouths and what effect it has on those who hear what we say.
Then what should our mouths be full of when we talk? I've been happily stuck in Psalm 34 lately and have tried to squeeze every ounce of meaning and application from those wise instructions of King David who wrote them and lived them. He tells me clearly what I should fill my mouth with so that I can talk properly.
"I will bless the Lord at all times. His praise shall continually be in my mouth. My soul shall make its boast in the Lord; the humble shall hear it and rejoice. O magnify the Lord with me, and let us exalt His name together!" (v. 1-3)
Let's try it in the Message paraphrase: "I bless God every chance I get; my lungs expand with his praise. I live and breathe God; if things aren't going well, hear this and be happy: Join me in spreading the news; together let's get the word out."
Do I excuse myself because I don't think I have a "platform"? Is no one listening to me when my mouth is full of grumble or complaint or self-pity? Not so. I have a built-in audience to hear me every time I am asked, "How are you?" That is often just a casual courteous inquiry, like making small talk. People don't expect me to go into an "organ recital" with a list of bodily organs that are giving out or becoming disordered. They don't want to hear how I feel that my cup is only half-full or circumstances have done me in or that I'm at the end of my rope. If I do launch into such details, their eyes may glaze over and they can't wait to get out of my orbit.
Rather than spewing a litany of depressing talk because that's what I have in my mouth, David gives me an example of God-speak which begins with an act of my will: "I will bless the Lord...(when?) at all times (especially when someone asks me how I'm doing)." Suddenly and providentially, I have my built-in "platform" and I have the floor. Praise to the Lord should continually fill my mouth. I should boast that I am finding the Lord sufficient, I am under His intensive care, I am thankful for the blessings I do have, that all things are working for good and the best is yet to come.
The people who hear me say such things may themselves be "suffering, afflicted, oppressed, losing heart, poor in spirit" (other translations for the word "humble"). They will be encouraged and built up through my praise and witness, rather than depressed or impressed with my list of disorders. If I talk with my mouth full of praise and blessing "always on my lips," they will welcome my invitation to "Magnify the Lord together." How can we magnify the Lord any greater than He already is? By "glorifying, proclaiming, extolling, saying great things about Him, lifting His name up high"—telling how great He is, not how great I am for enduring patiently whatever I am going through.
That's all, folks. Just sharing what I am trying to learn myself—at all times, including during the growing limitations of my nonagenarian years. I found that actually memorizing word for word this brief preamble of Psalm 34:1-3, reciting the verses over and over through the day at all times including the night hours, if sleep eludes me.
Oh, did I say something about being at the end of my rope and not knowing where to turn? David made it clear that I should know where to turn. "I sought the Lord and He answered me and delivered me from all my fears...and all my troubles." (v. 4,6)
BTW: I discovered that not all the friends who receive my blog posts know that the posts come from part of my website www.leonachoy.com. Click on it and come visit me. Please stop by regularly and view all the other good stuff that may interest you.