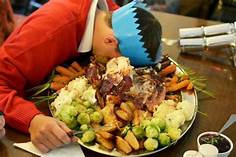 When I was a baby, my mother put food in my mouth. When I was a child she put food on my plate. She was in charge of what I ate, how healthful or balanced it was and how large or small the portions. As I grew, I became in charge of what was on my plate. My choices were dictated by my tastes and my selection of foods and their quantity was often flawed.
That has remained the case throughout the many seasons of my life. As an adult I'm expected to exercise good judgment—not starve myself, go on strange fad diets or overindulge. That goes for my activities, work, responsibilities, whatever I do on a daily basis. If I lament, "I just have too much on my plate!" whose fault is that?
Overload may not be what someone else is struggling with, but it is my problem. I can't imagine not having enough to do or complaining that I'm bored. In my late-in-life season, I continue to fail to pace myself, to be in denial that I have growing limitations. It's an M.O. of which I'm not proud. I announced recently that I'm going to try to pedal back and take a few off days to re-calibrate my life style, to recollect myself, evaluate my scattered pursuits and heavy commitments, good as they may be. In short, to sort out my priorities as a nonagenarian, to work toward balance. I appreciate the solicitous notes of concern to inquire whether I'm in ill health!
No wonder. My friends and family all know that I've tried to slow my pace repeatedly through the years. Unfortunately, it hasn't worked very well thus far. I continue my lifestyle in the fast lane with too much on my plate.
I should ask myself who put on my plate what I'm attempting to do day by day? Are other people or circumstances loading my plate with things I'm not supposed to be "eating"? Or, when I take on more than I can handle, could it be from pride to try to prove that I can still do everything I did when I was decades younger?
I do believe God is in charge and still has a lifelong plan for me even at my advanced age. Granted, He doesn't expect me to retire from His calling on my life. It is for a lifetime, as is His favor and enabling. He may, however, adjust His loving expectations to match my season of life. I look to Him alone to put on my plate what He desires. God is not the one who overloads my plate or leaves it empty.
At the same time, He expects me to exercise good judgment in my choices not to take on more than I can handle. He provides "my daily bread" and allows me to exercise my free will under His generosity. Lord, help me choose wisely from life's giant leather menu.