Do you ever feel short on ideas? Do you ever feel that you should be writing, but can't even think of something to write about?
Here are some practical tips for capturing, developing, and generating fresh ideas for your writing.
For a starter, who really owns ideas? No one. Each idea you have is a fresh new one. Help yourself. They are free and can't be copyrighted.
In a sense, there are no new ideas, only recycled ones. As a writer, you can even salvage an idea gem someone discarded and polish it to a brilliant luster in your own way. It becomes yours. Take a mediocre idea and transform it into a powerful, innovative one with your creative touch.
Ideas are like butterflies flitting all around. We need to know how to capture them. Go about your daily life with your idea antennae extended all the time. Your senses are the portal to ideas. Be a noticer, a reflector, and a recorder.
Don't let the rare ones get away. Net them by jotting down every idea no matter where or when it flies by you. Write it down on whatever is handy—a restaurant napkin, the back of an envelope or a grocery receipt or on a bank deposit slip. Better, of course, to carry little spiral notebooks in your pocket or purse.
It's a given that we shouldn't plagiarize—so closely imitate another person's material and represent it as our own. We aren't stealing if we adapt, refashion, or develop an idea in a fresh way, restating it, adding our particular perspective, insights and applications.
There's no point in simply collecting ideas. As writers who are Christians we are responsible to write what God wants us to communicate to readers. We need to evaluate the ideas and listen to God.
It has been said that some ideas are like SEEDS: they should be buried while they germinate awaiting the right time to spring forth. Some are like SOUP: let them simmer, stirring occasionally, adding ingredients and seasonings as needed. Others are like EGGS: keep them warm while you brood over them. Some are like NUTS: get rid of the unwanted, inedible shell and get to the usable kernel. And some are like CHERRY PITS: spit them out as unpalatable and unproductive.
If God vetoes an idea, let's not sulk or insist on pursuing it. Graciously accept the nudge in your spirit from your Supreme Editor, God.
Write about what you know and research what you don't know. One idea leads to another. Spin-offs to additional markets mean multiple sales for your ideas. Look for legitimate ways to squeeze more mileage from your research efforts.
Whatever happens to you can be idea-generating. Personal trials are God's back door deliveries of blessings and grist for your writing mill. As you pray and work through your adversities, you may find solutions worth sharing with hurting people.
Ideas are as capricious as butterflies. They are hiding everywhere. Some are like the butterflies that take on the color of their surroundings. You have to look carefully since ideas are often found in ordinary places.
You can cull ideas from the media, draw them from within yourself and your personal experiences. Observe the world and the people around you and harvest those ideas. Our walk with the Lord and the study of His Word is a never-failing source of ideas.
Help yourself to life where ideas abound without limit. Writer's block need never be an issue for you!
*****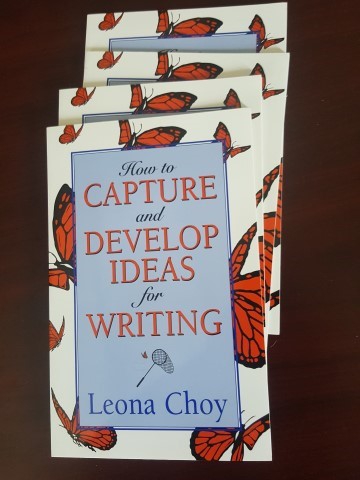 Would you like a copy of my 35 page booklet on which I based the above? I will send you a FREE postage paid copy as long as they last, if you go to CONTACT and email me your name and mailing address and email contact.